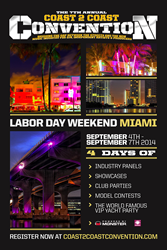 Miami, FL (PRWEB) February 06, 2015
Coast 2 Coast is proud to announce A&R at G-Unit Records Tony G as a panelist at Coast 2 Coast Convention 2015. Tony G is a veteran A&R and has worked on projects with 50 Cent, DJ Pauly D, Tony Yayo, Lloyd Banks, Kidd Kidd and many more. As an A&R, Tony G is always looking for talented new artists, producers, songwriters and DJs.
Tony G will be a panelist on the Coast 2 Coast "What's Your Plan? Panel" and will also be joining us for numerous festivities over the weekend, especially the VIP Yacht Party!
The 7th Annual event will feature panels from some of the top names in the music industry discussing how independent artists can take advantage of the new music landscape to build their careers. Panels will include Media (Bloggers and Website Owners of Top Urban Websites), Producers (Grammy Winning and Platinum Producers), DJs (Radio DJs from Miami and Beyond), and Music Industry Professionals (Lawyers and Managers Making the Moves Behind the Scenes).
Coast 2 Coast will announce new panelists as we get closer to the event! Stay tuned at http://www.coast2coastconvention.com.