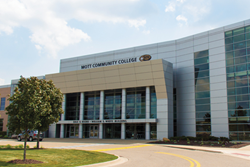 "It's been rock-solid and that has driven us to replace all our storage." Marc Smith, Mott Community College.
Anahiem, CA (PRWEB) February 05, 2015
Anaheim, CA – February 5, 2015 – Mott Community College wanted to replace 100TB of existing SAN storage, but needed a fast, affordable, high-availability solution that supported Enterprise Storage OS (ESOS), which is open source software that allows a server to appear as a storage appliance.
Like many organizations, Mott Community College was challenged with a growing number of production VMware servers and the realization that their existing SAN storage was simply not able to deliver the performance their users required. They needed a solution that could deliver faster access, maintain high availability and stay within their limited budget.
Fortunately, the unique combination of Avago Syncro CS controllers and DataON Storage scalable enclosures was able to meet these requirements. The solution includes, standard commodity servers with Avago Syncro CS 9286-8e controllers configured in active-active clusters connected to eight 2U, 24-bay Small Form Factor (SFF) DataON DNS-1640 SAS enclosures.
"Now that Avago Syncro CS controllers are available, this is really THE solution for a dual-head ESOS storage server," — remarkes Marc Smith, Manager of Computing Services, Mott Community College.
Mott Community College replaced its entire 100TB storage environment with an affordable, high-availability shared storage system that met its performance requirements and provided substantial savings in both hardware and support costs. By using the combination of Syncro CS controllers and DataON enclosures, the college opted for a combination of 10K SAS drives and SSDs configured in RAID 10 arrays. This implementation enabled them to achieve over 346,000 1KB read IOPS and provide both the fast throughput and the high availability that their VMFS datastores needed. Not only did this give them the performance they needed at about half the cost of a comparable SAN disk array, they also saved over $50,000 a year in support costs over their old SAN solution.
"We've been using ESOS, Avago and DataON products for our VMware VMFS datastores on Fiber Channel SANs for quite a while now. It's been rock-solid and that has driven us to replace all our storage with an open storage solution," said Smith.
About DataON:
DataON Storage is the leading provider of OS-agnostic storage platforms, including scale-out JBOD enclosures and converged storage cluster-in-a-box appliances. DataON offers resilient, scalable and high-performance solutions tailored to snap into any cluster-aware software-defined storage environment and certified for Windows Server 2012 R2 Storage Spaces. The DataON tiered storage CiB design enables SMBs and enterprises to achieve million IOPS performance with petabyte scalability; tuned for software-defined data centers, VM and storage convergence, desktop virtualization (VDI), database, and private cloud deployments. DataON is the storage division of Area Data Systems, information is available at http://www.DataONstorage.com, call +1 (888)726-8588 or comment via @DataON.
About Avago Technologies:
About Avago Technologies is a leading designer, developer and global supplier of a broad range of analog, digital, mixed signal and optoelectronics components and subsystems with a focus in III-V compound semiconductor design and processing. Backed by an extensive portfolio of intellectual property, Avago products serve four primary target markets: wireless communications, wired infrastructure, enterprise storage, and industrial and other. For more information, visit Avago's website: http://www.avagotech.com.