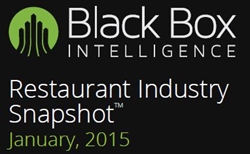 "Although underlying economic conditions are still very favorable for the industry and the positive momentum continues, most of the increase from the December growth rate is really a product of the milder winter this year" - Victor Fernandez
(PRWEB) February 06, 2015
The positive momentum experienced by the restaurant industry at the end of 2014 continued in January as chain restaurants posted the highest same-store sales and traffic growth rates in over six years. However, the real story behind these historically strong results is that the relatively mild winter we experienced during the first month of the year was much more favorable for restaurant spending than the severe storms that impacted the country a year ago. This is not to say that winter storms didn't affect spending in January 2015, but their effect was not as wide or persistent as during last year. Additionally, an improving economy driven by consumer confidence has given the industry a great start to 2015. This insight comes from data reported by TDn2K's Black Box Intelligence through The Restaurant Industry Snapshot for January, based on weekly sales from over 20,000 restaurant units representing over 45 billion dollars in annual revenue.
Restaurant same-store sales grew by 6.1% year-over-year in January, a 3.0% increase over the December growth rate. "It is difficult to determine exactly how much the changes in weather affected January's same-store sales" commented Victor Fernandez, Executive Director of Insights and Knowledge for TDn2K. "However, to put things in salesperspective, the average same-store sales growth rate reported for the last five months of 2014 was 2.1% and the sales growth reported for December was 3.1%. This leads us to believe that although underlying economic conditions are still very favorable for the industry and the positive momentum continues, most of the increase from the December growth rate is really a product of the milder winter this year".
Further evidence of the industry's strong performance during January, regardless of the weather effect, can be found when analyzing the average weekly sales per restaurant unit. Even though January 2015 did experience some severe winter storms, average sales per restaurant increased by 2.5% from the average reported for December 2014 and by 4.9% from the November average. "Considering that the December average checks are typically higher due to the additional holiday spending, the results achieved by the industry during January continue to fuel optimism for a sustained positive sales trend and a very strong first half of the year", said Fernandez.
Same-store traffic growth during January was 2.4%, which represents a 1.9% improvement over the December results. The average year-over-year traffic growth rate for the period between October and December of last year was -0.3% and the industry only achieved positive traffic growth during two of the months during that period, suggesting again that January's result was artificially inflated by the weather effect.
The most encouraging news is that the economy continues to progress and the labor market keeps improving, creating income growth. The challenge to keep restaurants fully staffed has also increased. According to TDn2K's People Report's latest published results, restaurant manager and hourly employee turnover levels continued to increase in December. Rolling 12-month manager turnover has now increased year-over-year during the last nine consecutive months, while for rolling hourly turnover it has been increasing for the last sixteen. As the industry maintains its current expansion mode, the pressure on staffing these new restaurants also rises. The industry added new jobs at a rate of 3.9% during December, which is the fourteenth consecutive month in which the job growth has topped 3.0%. These labor pressures are expected to continue throughout 2015, which means that restaurant companies will also likely need to accelerate their wage and salary growth if they are to keep up with this new environment in which competition for talent is heating up.
White Box Restaurant guest satisfaction, as measured by TDn2K's White Box Social Intelligence, increased in January with "food" once again showing the largest share of online activity (other tracked attributes include: service and intent to return). Food-centric online activity was 89% in January (from a sample of 4.5 million distinct social media generated mentions), while intent to return generated the least overall mentions (only 4% of all mentions in the sample).
The attribute that generated the largest percentage of positive mentions was "intent to return". A significant 60% of all mentions featuring intent to return were of a positive nature during the month. Only 23% of consumer online mentions during January demonstrated a positive sentiment towards the food from the brands tracked (most of the mentions tend to be neutral in sentiment), while 34% of the mentions referred to the brands' service as being positive.
The best performing segment during January based on percentage of online food mentions which were positive was Fast Casual, a shift from last month when Upscale Casual/Fine Dining was the leading segment. For the service attribute the best performing segment was once again Casual Dining, while Upscale Casual/Fine Dining has now been the segment with the largest percentage of positive intent to return mentions for two consecutive months.
The Restaurant Industry Snapshot is a compilation of real sales and traffic results from over 190 DMAs representing 110+ restaurant brands and over 20,000 restaurant units that are clients of Black Box Intelligence, a TDn2K company. Data is reported in five distinct segments: casual dining, upscale/fine-dining, fast casual, family dining and quick service. TDn2K is also the parent company to People Report and the new White Box Social Intelligence. People Report tracks the workforce analytics of one million restaurant employees. White Box Social Intelligence delivers consumer insights and reveals online brand health in relation to operational metrics. TDn2K reports on over 30,000 restaurant units, one million employees and 45 billion dollars in sales.
White Box Social Intelligence is the newest product of TDn2K. Using a powerful search engine, White Box collects restaurant brand mentions from Restaurant Review Sites and Social Media Platforms such as Facebook, Twitter, and Google, among others. Data is filtered by a proprietary technology which organizes mentions by industry specific operational attributes (Food, Service, Intent on Return, Ambiance, Beverage) as well as Custom Classifications designed by White Box Members.