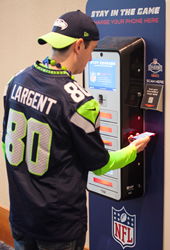 Sports fans are clamoring for the best, safest and most secure charging amenity available, which is why more world class arenas and stadiums are turning to Brightbox.
New York, NY (PRWEB) February 07, 2015
Brightbox, Inc. (http://www.brightboxcharge.com), the leading platform provider of secure mobile device charging lockers, is pleased to announce it will be enhancing the attendee experience with its Brightbox® Mark3 Mobile Charging Platform at the 2015 National Sports Forum (NSF) in Cincinnati, Ohio at the Duke Energy Convention Center in booth 167, from February 8th to 10th.
The three-day conference, now in its twentieth year, brings together the largest gathering of the top team sports marketing, sales, promotions and event entertainment executives from teams and leagues across North America (NFL, MLB, NBA, NHL, Minor Leagues, Racing, Colleges). With over 80 Speakers, 28 Breakout Sessions, and 4 Super Panels, the NSF is where sports executives network, learn about best practices and new trends, and explore the challenges facing sports properties and discover new ways to market their brands and improve their bottom lines.
Brightbox, a New York based B2B kiosk technology company, is the global leader in developing and deploying secure charging stations for mobile devices, including cell phones, phablets, backup chargers and batteries. The Brightbox® Mark3 mobile charging platform is the most innovative, secure mobile device charging solution available in today's marketplace, enabling consumers to continue to communicate, navigate, search, shop, share, pay and play on their mobile devices in public places. Users simply swipe a credit/debit or complimentary card to open an available station chamber, plug in their mobile device or accessory, close the chamber and return later to swipe the same card to retrieve their charged phone. Companies can offer device charging via Brightbox as either a complimentary or paid amenity.
"We're pleased that the top executives in sports marketing can see and experience the Brightbox® Mark3 Platform and be delighted when charging their mobile devices and accessories," said Billy Gridley, CEO of Brightbox. "Sports fans are clamoring for the best, safest and most secure charging amenity available, which is why more world class arenas and stadiums are turning to Brightbox."
NSF attendees will be able to experience Brightbox and enjoy unlimited charging sessions via lockers available at the conference. Top executives responsible for revenue generation in sports marketing can attend sessions, network, take meetings and work, resting assured that their phones are being safely and optimally charged in a station that delivers both data privacy and physical security.
"ROI to management companies, teams, stadium and arena operators is immediate and impactful via Brightbox," said Joel Martin, Global Events Director of Brightbox. "One of the biggest goals of Sport CMO's is to engage millennials, keeping them in the game and actively posting on social media. Brightbox promotes greater social media engagement, higher dwell times, and offers a branded benefit that guests associate with the stadium experience."
Engagement is the name of the game with Brightbox's customizable charging amenity and its interactive stations are a big win for sponsors and fans alike. High resolution, interactive touch screens with video and slide show capabilities provide effective delivery of intimate and direct consumer messaging, surveys, brand offers and promotions. Charged devices keep fans engaged in the game, the club and the arena. Sponsors can easily engage fans via devices powered by Brightbox or via the Brightbox stations themselves. Exclusive offers are also available via branded key cards specifically tailored for customers, events and activations. 
The Brightbox® Mark3 features a 10" interactive touch screen, customizable swipe cards and a strong brand-messaging platform. The UL and agency certified stations ensure the physical security and data integrity of phones being charged, are PCI compliant with a best-in-class encrypted card reader and meet the highest standards for safety and security. They offer retractable charging cables and chambers that can accommodate nearly any mobile device, including the latest phablets, while delivering the safest fast charge possible at optimized manufacturer recommended rates. No other charging kiosk company offers a similarly competitive, robust platform with such a range of security, engagement and interactivity features.
"We couldn't be more pleased to have Brightbox join us once again for the 2015 National Sports Forum," said Ryan Heldrich, Communications Coordinator for The National Sports Forum. "Be sure to stop by booth (167) to see Brightbox's cutting edge technology and a chance to look into the future of Stadiums and Sports Properties."
About Brightbox
Brightbox® is B2B kiosk technology solutions company providing global venues and users with the best-in-class secure mobile device and accessory charging platform for marketing, sponsorship and venue interaction. Founded in 2011 and based in New York City, Brightbox delivers intelligent and innovative charging solutions and has deployed its secure charging lockers in 3 countries (the United States, Brazil and the Netherlands) and 20 states in a variety of event and vertical markets that include hospitality, entertainment, healthcare, retail, education, transport and government.
Event customers include AOL, AdWeek, American Airlines, BBC ComicCon, CEDIA, Citibank, Coca Cola, Detroit Grand Prix, Discovery Channel, Event Tech, GoPuck, IBM, IMEX, Inc. 500/5000, InCharged, Intel, Major League Baseball, New York Times Travel Show, So Cool Events, Societe Generale, Verizon, UBS.
Enterprise customers include Hilton, Hyatt, Sheraton, Omni, Dream, Caesars, MGM, Heineken, RadioShack, Toys'R'Us, Westfield Malls, Time Warner Cable, National Spy Museum, Christie's, NFL Experience, New York Red Bulls, Tampa Bay Rays, Universal Studios, Baystate Health, Mount Sinai Health, Orlando Health, Yale New Haven Health, American Airlines, British Airways, Columbia University, Telefoon Oplaad and BR CHARGE. Learn more at http://www.brightboxcharge.com @brightboxcharge
About 2015 National Sports Forum
The National Sports Forum is the largest annual cross gathering of the top team sports marketing, sales, promotions and event entertainment executives from throughout the broad spectrum of teams and leagues, (i.e. NFL, MLB, NBA, NHL, Minor Leagues, Racing, Colleges, etc.), in North America. (On average, 75-80% of our Attendees come from the US, with Canada comprising approximately another 20%.)
We meet each year for three days of networking, idea sharing and listening to the industry's top spokespeople, through numerous breakout sessions, panel discussions, networking events and keynote speeches. For more information visit http://sports-forum.com.