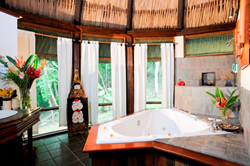 The Chocolatissimo Belize Vacation Package is a way to become completely immersed in this 'food of love,' from morning to night.
San Ignacio, Belize (PRWEB) February 07, 2015
The Lodge at Chaa Creek has kicked off their annual February "Valentine's Month of Love" for 2015, according to the Belizean eco resort's guest services manager.
Denise Duran, who is also Chaa Creek's weddings and honeymoon planner, said that Valentine's Month can be enjoyed throughout February on a day-by-day basis, or with the Valentines Chocolatissimo Package, an all inclusive Belize vacation package available for three or four night stays.
Ms. Duran said that the Valentine's vacation concept evolved over the years, beginning as a way to celebrate St. Valentine's Day before being offered all week long, and then finally becoming a month-long celebration.
"Our Valentine's vacation concept grew out of word of mouth and increased demand," Ms. Duran said. "We received such positive feedback from our Valentine's week that we decided to extend it into a month-long opportunity for couples of all ages to do something really special for each other."
"The all-inclusive Chocolatissimo Vacation Package, for instance, can be given as the ultimate Valentine's Day gift at home on the day, and then enjoyed here anytime after that," she added.
Ms. Duran said that the Chocolatissimo package is a celebration of love, health, and Belize's Maya heritage.
"Cacao was first cultivated by the ancient Maya and Olmec and developed into 'xocoatl,' a highly prized beverage from which chocolate was later produced. Belizean chocolate can be made with strains that the Maya have been growing here for thousand of years.
"The Chocolatissimo Belize Vacation Package is a way to become completely immersed in this 'food of love,' from morning to night. For one set price, it includes luxurious jungle accommodation and exquisite breakfasts, followed by sensuous cocoa massages, facials, a Maya chocolate pedicure and polish, chocolate fondue body wrap, and extra pampering at our Hilltop Spa. Afterwards, couples enjoy intimate candlelit dinners followed by Maya cocoa-inspired cocktails and desserts.
"The package also includes healthy activities such as guided nature walks, canoe trips, horseback or mountain biking and swimming, so couples can feel good about indulging themselves," she added.
Ms. Duran said that however guests choose to spend February at Chaa Creek, they have complete access to the eco resort's 365 acre private nature reserve, with an infinity pool, butterfly farm, Natural History Museum, stables, canoes, miles of maintained trails for nature walks and mountain biking, and other attractions and amenities.
She added that, while Chaa Creek offers special romantic adventures packages throughout the year, the eco resort is particularly poised to accommodate amorous couples throughout February.
"I'm fortunate enough to have a team of romance specialists all year round, but we're really given free rein throughout February, which is great for both the team and our guests. It's a job we all love," she added.
The Lodge at Chaa Creek is a multi award winning eco resort set within a 365 acre private nature reserve along the banks of the Macal River in Belize.
ENDS