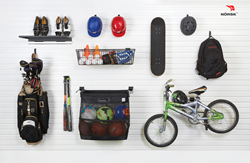 Our focus is on ease of installation and flexibility.
Aliso Viejo, Calif. (PRWEB) February 19, 2015
Norsk, the leading provider of quality foam and PVC floor tiles, is proud to present their newest product, the NorskWall slatwall system. Using heavy-duty plastic slats made from virgin cellular PVC, NorskWall creates a customizable organizational system that maximizes storage space without sacrificing aesthetics.
"We're pleased to offer consumers a practical system that can be tailored to their specific needs," says Norsk CEO Bruce Thrush. "Our focus is on ease of installation and flexibility."
Norsk's wall panels are designed with a modular feature that incorporates the company's patented Kwik-Connect system. Precision-machined dowels allow panels to be quickly connected side-by-side, creating clean, tight seams. By adding panels, an entire wall of flexible storage options can be created. Alternatively, NorskTrack can be used in areas where fewer items need to be organized in a defined space.
The NorskWall system is intended for both commercial and home use; it is versatile enough for the garage, basement, and laundry room, as well as for display use in a retail store environment. Engineered to handle loads in excess of competitors, it is strong and durable. Norsk's innovative Kwik-lock accessories are also uniquely designed to support heavy loads and optimize storage space, while creating unlimited storage combinations. "Our shelves, baskets and storage bags have more cubic feet of storage than any other product on the market, giving you maximum storage," says Thrush.
NorskWall sets itself apart from competitors in several categories, including:

Ease of Installation – The patented Kwik-Connect system allows panels to quickly interlock, making installation easy.
Quality Materials – NorskWall is made from heavy-duty cellular PVC material that distinguishes it from similar products.
Turnkey Kits – Every NorskWall and NorskTrack kit includes all parts needed for installation; there's no need to buy color-matched screws or expensive trim pieces.
Flexibility – To accommodate specific organizational needs, track and wall configurations can be customized by mixing and matching.
Versatility – Kwik-Lock accessories allow for unlimited storage combinations and easy rearranging.
Aesthetic Appeal – NorskWall panels have a hidden screw feature, eliminating unsightly screw heads from the entire wall and providing a clean, aesthetically pleasing look.
Compatibility – Some other manufacturers' hooks and accessories may be compatible for use with NorskWall panels.
For more information, view the NorskWall introductory video at https://www.youtube.com/watch?v=V8d8PHD4kys or visit http://www.Norsk-Stor.com.
About Norsk
At Norsk, we are driven to do things differently. To consider how design, quality and innovation in our products can be complemented by a superior team of people who truly care. Our goal is to offer exciting merchandise and a memorable experience for our customers. Our lines incorporate the latest technologies and feature high-quality materials at extremely competitive prices. It is our sincere desire to share our inspiration with you. We strive to exceed your standards for products that are easy to use and that beautify and simplify your lifestyle.
http://www.Norsk-Stor.com
65 Enterprise, 3rd Floor
Aliso Viejo, CA 92656
customerservice(at)norsk-stor(dot)com
(888) 443-9058
Media Contact:
Jamie Thrush, Director of Marketing
press(at)norsk-stor(dot)com
For Dealer inquiries, please contact
dealersales(at)norsk-stor(dot)com