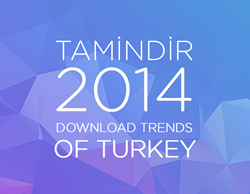 Tamindir.com proved that keep the pulse of download sector of Turkey again, with approximately 130 million downloads recorded in 2014.
(PRWEB) February 09, 2015
Tamindir.com is the leading software download and tech news platform of Turkey. It has examined all the user behaviours and download habits of 2014 and proudly published the 2014 Turkey Download Trends Report.
In the report, all the information regarding the most downloaded desktop softwares, mobile apps and games could be found. Also, it contains statistical data about the most read tech news and guides too.
Tamindir 2014 Turkey Download Trends Report contains useful information for both users and developers. Do not forget to view it using the link below.