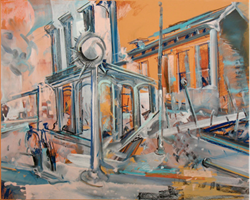 Baltimore, MD (PRWEB) February 06, 2015
A great fire devastated the heart of the city's financial district between February 7 and 8, 1904, destroying over one thousand downtown buildings. On the one hundredth-eleventh anniversary of these events, the Maryland Historical Society is proud to announce that a new exhibition is in the works featuring the artwork of David Brewster. The exhibition will pair contemporary paintings with historical objects in new and innovative ways.
"Pictorially this historic conflagration provoked my imagination in a major way and inspired me to depict several epic views of the Great Baltimore Fire in various stages of its spectacular destruction," Brewster says.
Brewster was commissioned by the W.P. Carey Foundation in 2010 to create a suite of large oil paintings based on historic Baltimore during the life and times of James Carey (1751-1834) of Loudon, the great early Baltimore businessman for whom Johns Hopkins Carey Business School is named.
The Great Baltimore Fire erased many of the downtown buildings from the imprint of the city, presenting an opportunity for new expressions in architecture. But the buildings that were lost are what interests Brewster the most. "Like many of us fascinated by the Great Fire of 1904 I found myself in my dreams exploring the exquisite mansard shell of the smoldering B&O Building and lingering at night by steam pump engines that ushered in the mystical dawn of Baltimore's new age."
The Maryland Historical Society's collection contains the largest known repository of Great Baltimore Fire objects, including photographs of the destruction, fire equipment and stacks of nails that were literally fused together by the flame's tremendous heat.
"With so many open flames in homes and businesses, most major cities had devastating fires around the turn of the 20th Century," says MdHS President Burt Kummerow, "The Maryland Historical Society has its own piece of Baltimore's fire history and we are excited that we will be remembering it in an innovative way, through a new exhibit."
Read more about David Brewster's art by visiting http://www.davidbrewsterfineart.com. Brewster's exhibition, name TBD, will open at the Maryland Historical Society in 2017.
About The Maryland Historical Society
Founded in 1844, The Maryland Historical Society Museum and Library occupies an entire city block in the Mount Vernon district of Baltimore. The society's mission is to "collect, preserve, and interpret the objects and materials that reflect Maryland's diverse cultural heritage." The Society is home to the original manuscript of the Star-Spangled Banner and publishes a quarterly titled "Maryland Historical Magazine." Visit http://www.mdhs.org.
For more details, contact Marketing Director Laura Rodini at lrodini(at)mdhs(dot)org or by phone: 410-685-3750 ext. 322.