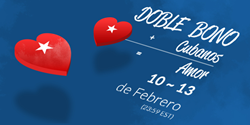 Doble Bono + Cubanos = Amor
Atlanta, Georgia (PRWEB) February 08, 2015
HablaCuba.com launches a new double bonus promotion, to help all Cubans living abroad celebrate Valentine's Day with their loved ones far away. The promotion is available between February 10-13 and doubles the mobile credit sent as international top ups to Cubacel mobiles. The bonus amount is active for 180, 270, or 330 days, depending on the value recharged.
This new Doble Bono promotion comes in handy just before Valentine's Day, when everybody feels the need to express their feelings for the ones they love. Besides, sending a double top up as a Valentine is always a good idea. This is how this promotion proves that Doble Bono + Cubanos = Amor. By receiving double credit, Cubans will get to talk to their loved ones twice as much.
The promotion brings double extra credit to the person receiving the cell phone recharge. For example, anyone can recharge a mobile in Cuba with 40 CUC and pay only $22. The minimum value necessary to receive the bonus is $22 and in this case the bonus is active for 180 days, while the maximum is $55 and the bonus expires in 330 days.
The current campaign is one of the monthly promotions initiated by Cubacel for its loyal subscribers and addresses all those holding an account on HablaCuba.com. When making a recharge, customers will also be able to send a free SMS to the persons receiving their top up. All they need to do is tick the box which allows them to send the SMS and type in their message. The text is free of charge and it allows customers to let the recipients know they recharged their mobile.
An extra bonus applies on HablaCuba.com for each mobile recharge sent to Cubacel. Customers receive 2% of the value of the purchase as Thank You points, which they can afterwards use to call for free. Whenever customers reach 1,000 Thank You points, they can convert them into $10 Voice Credit that they can use to call or send SMS to Cuba.
Besides international Mobile Recharges, HablaCuba.com also offers Voice Credit. This is a prepaid service offering affordable credit for international calls and SMSes. Calls can be made from a phone via access numbers, from a PC through the Web Call app, and from a smartphone by using a free app for iOS and Android called KeepCalling. SMSes can be sent from the Web Call and KeepCalling apps. Calling any landline or mobile in Cuba is 69.9¢/min (USD) and sending a text message to a Cubacel mobile is 7¢.
HablaCuba.com is known as a service provider which offers 100% transaction security and satisfaction. All major payment methods are accepted: Visa, MasterCard, American Express, Discover and PayPal. The service offers an easy, fast, and reliable solution to all those traveling or living abroad interested to keep in touch with their loved ones in Cuba.
About HablaCuba.com:
HablaCuba.com is an interactive website designed by KeepCalling, a global telecommunications company registered in 2002 in USA. Presently, KeepCalling provides its services to hundreds of thousands of consumers and businesses, with a focus on customer satisfaction. KeepCalling has been listed by Inc 5000 in top 20 telecom companies in the USA for the last 4 years. In 2014 the company was designated the 18th fastest growing company in the telecommunications industry in USA with a revenue increase of over 600% from 2010 to 2013.