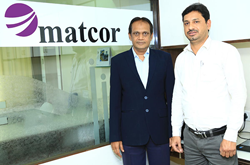 "MATCOR has distributed products and systems to operators in India for over eight years," said MATCOR President Douglas Fastuca.
Chalfont, PA (PRWEB) February 06, 2015
MATCOR, Inc., the trusted full-service provider of proprietary cathodic protection products, systems, and corrosion engineering solutions, announces the opening of a new office in Ahmedabad, India. The office is located at 106, Sakar – V, B/h Natraj Cinema, Opp. H.K. College, Ashram Road, Ahmedabad - 380009, and staff can be reached by phone at +91 79 26588551 or email at sjavia(at)matcor(dot)com.
Shailesh Javia, Director, MATCOR International, will lead the new office which opened in January. Mr. Javia is a NACE Level III Electronics Engineer with over 22 years of experience in corrosion engineering and cathodic protection.
"MATCOR has distributed products and systems to operators in India for over eight years," said MATCOR President Douglas Fastuca. "With the significant current and future infrastructure development expected in India, we are very optimistic that local operators will benefit greatly from direct access to MATCOR's turnkey solutions."
India is home to many major companies in the oil and gas, chemical, power, water and other infrastructure industries. These companies operate assets such as pipelines, plant piping, offshore structures and storage tanks that require the corrosion prevention products and services provided by MATCOR. In addition, India has a growing network of pipelines laid in overhead electrical right-of-way corridors. Pipelines along these corridors experience AC interference as great as 50-75 VAC, which can cause corrosion and a hazardous environment for workers and the public.
MATCOR will provide operators in India with its full array of cathodic protection and corrosion engineering services, in addition to a full range of AC mitigation products and services to combat pipeline AC interference.
ABOUT MATCOR
In business for over 40 years, MATCOR is an international company providing services and products that solve corrosion problems for major infrastructure assets such as oil, gas and water pipelines, above ground storage tanks, power plants, energy facilities, deep wells and steel-in-concrete structures. MATCOR is a turnkey ISO 9001:2008 certified provider of customized cathodic protection products and systems combined with high-quality corrosion engineering, installation and maintenance services. MATCOR is headquartered in Chalfont, PA, has a field service office in Houston, TX, a sales and service office in India and a growing list of international distributors. MATCOR has been named to the Inc. 5,000 list of fastest growing companies in 2011, 2012 and 2013.
Visit http://www.matcor.com for more information.