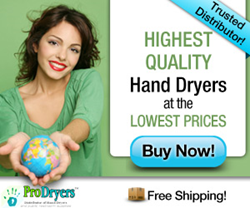 I can't believe we started a multimillion dollar company with the sale of my Great Grandfather's WWI Sword. I am truly humbled. Hopefully he is looking down proud.
Livonia, MI (PRWEB) February 10, 2015
Category Five Technologies, Inc. was started in 2003 by Anthony DiCicco. The defining moment everybody would look back on years later was from the sale of a World War I sword on Ebay. The great grandfather of Anthony DiCicco fought for the Italian army and had passed down the item through generations. With the money from the sale, the company started selling miscellaneous items on Ebay. A family member worked for a local hand dryer manufacturer which led to offering hand dryers on Ebay. Shortly after, ProDryers.com was born.
The goal of ProDryers.com was to provide customers with a full selection of all major hand dryer brands at the best prices with free shipping. There were other distributors of hand dryers, but none of them offered a full selection so customers could compare and choose the best option for their specific restroom needs. Finding a reputable dealer with a full line of restroom products was a challenge. ProDryers started with hand dryers but quickly reached its goal of providing the 360 degree restroom shopping experience from hand dryers to baby changing stations, grab bars, mirrors, paper towel dispensers, soap dispensers, faucets, flush valves and so much more. Today, ProDryers even offers a full line of urinals, toilets, wash fountains and lavatory sink systems.
By 2010, ProDryers required two warehouses to maintain inventory to meet demand for all major brands of hand dryers and over 2500 restroom accessories. Today the company has 3 warehouse suites in Livonia, MI and stocks through various fulfillment centers across the United States. ProDryers has established partnerships with top trusted manufacturers such as Excel Dryer, Dyson, American Dryer, World Dryer, Sloan, Zurn, Hydrotek, ASI, Bobrick, Koala, Bradley Corp, Elkay, Haws, Oasis, Mitsubishi, Clarke, Betco, Mercury, Sandia, CARR, Saniflow, Buckeye Fire, and more to come. Many of these relationships took years to establish.
ProDryers is where it all started, but Category Five Technologies has also introduced unique niche market shopping experiences for products such as drinking fountains with ProDrinkingFountains.com, commercial floor machines with ProFloorMachines.com and a full industrial shopping experience at MRDIndustrial.com. By the close of 2014, Category Five Technologies has grown to handle 9.2 million in annual sales. This has also led to the need of about 14 employees and about double the office and warehouse space from 2012.
"Our growth potential isn't even close to being reached." claims Anthony. "We have a lot to accomplish through 2015 and beyond." Today, the company is focused on expanding with one of the most reputable manufacturers of faucets and flushometers; Sloan. "We hold a high level of trust with our customers because we partner with quality manufacturers like Sloan and strive to earn customers for life, not just one sale."