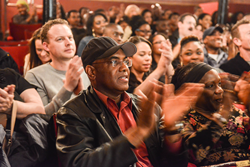 "...a true gem, full of history and vibrant character"
London, England (PRWEB UK) 6 February 2015
Attic Self Storage supports Theatre Royal Stratford East.
It has been announced today that Attic Self Storage has become a business partner of Theatre Royal Stratford East, providing £3,500 to support the theatre's work over the next year.
The partnership between Attic Self Storage and Theatre Royal Stratford East will initially run for a term of twelve months, with the possibility of extending beyond this period if it proves successful.
Frederic de Ryckman de Betz, Managing Director of Attic, had the following to say of the theatre: "Surrounded by the Stratford Shopping Centre that was built in the 1970s, with the brand new Westfield Shopping Centre opposite and within site of the London 2012 Olympic Park, Theatre Royal Stratford East stands as a monument to the history of culture in Stratford. It is simply delightful, in and amongst the concrete of the 1970s and the shining steel and glass of the modern age, to come across this true gem – full of history and vibrant character."
Attic Self Storage will be assisting the theatre in a number of ways, from encouraging clients past and present to make use of the theatre's funding channels, providing assistance with the storage and removal of sets, financial support and promotional activities.
Frederic de Ryckman de Betz added: "This is something we have wanted to do for a while. As a small, independent local business, the past few years have been challenging – but they have for the local arts as well, and we are over the moon to finally be in a position to work with the local arts community. Hopefully, this will be the start of a long term relationship, and the first of several local initiatives."
The partnership got off to a great start earlier this year, with Attic running a competition to win four tickets to the Christmas pantomime Beauty & The Beast, that runs at Theatre Royal Stratford East from 29th November to 17th January 2015. To find out more or to enter, visit Attic's Facebook page.
Kerry Michael, Artistic Director of Theatre Royal Stratford East said: "We're delighted to have Attic on board as a new business partner going forward. A thriving local business sector is very important both for us and the regeneration of Stratford and we welcome the opportunity to work with a wide range of companies and stakeholders."
For more information please contact Frederic de Ryckman de Betz, Managing Director at Attic Self Storage Limited at fred(at)atticstorage(dot)co(dot)uk or call 020 8981 6800
Notes to the Editor
About Attic Self Storage
Attic Self Storage is an independent storage and removal business located in Bow, East London. The winner of a European customer service award, the business prides itself on offering excellent service and great facilities while remaining competitive.
Frederic de Ryckman de Betz, Managing Director
Attic Self Storage Limited (5999141) 500 Wick Lane, Bow, London E3 2TB
enquiries(at)atticstorage(dot)co(dot)uk | 020 8981 6800
http://www.atticstorage.co.uk
About Theatre Royal Stratford East
A People's Theatre
This award-winning producing theatre, located in the heart of London's East End on the edge of the new Queen Elizabeth Olympic Park, prides itself on creating world class work that reflects the concerns, hopes and dreams of its community. Through a continuous loop it inspires and is inspired by its vibrant, young and diverse audience.