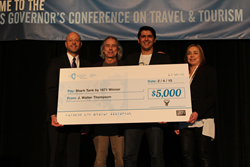 Chicago, IL (PRWEB) February 10, 2015
Georama, a company that provides a new medium for destination marketing via live interactive video, won the Shark Tank by 1871 competition held at the 2015 Illinois Governor's Conference on Travel & Tourism which took place from February 2-4 at the Hilton Palmer House.
Each year the Illinois Governor's Conference on Travel & Tourism brings together the tourism industry's brightest and best to share insights, research, viewpoints and trends. Leading Convention & Visitors Bureaus (CVBs), attractions, activity providers, and more from across the state graced the conference along with national organizations like Brand USA and U.S. Travel Association. A new addition to the conference this year was a competition called Shark Tank by 1871. Named after the famous TV show, the competition brought five of the best travel startups from Chicago's entrepreneurial hub, 1871, to compete for a $5,000 cash reward as well as presentation coaching courtesy of J. Walter Thompson, the sponsor of the session.
The five startups were Trytn, Options Away, Georama, SIMple, and Breakwater, each of which had 5 minutes to pitch to the audience and a panel of three 'sharks', Erin Clark, Senior Partner & Group Management Director at J. Walter Thompson, Howard A. Tullman, CEO of 1871, and Daniel Thomas, CEO of TimeZoneOne. From great ideas such as a new floating recreational venue on Lake Michigan to a product that enables travelers to lock-in the price of a fight; travel innovation was at its best. Ultimately, Georama, a company that helps tourism organizations inspire prospective travelers by giving them an exciting real-time preview of what it is like to be at a destination, beat its competition to win the $5,000 prize that was handed out by Illinois State's new Director of Tourism, Cory Jobe.
Georama provides cutting-edge software-as-a-service solutions to tourism organizations, hotel groups, airlines, and more. Its Vicarious Experiences product, helps people experience the world vicariously in real-time. A guide equipped with a wearable camera and Georama's technology can live stream their point of view to viewers around the world in a very stable HD stream, while moving around freely even in poor network conditions. What makes it even more interesting is that viewers can interact with the guide in real-time to ask questions and make suggestions, thereby getting a personalized experience. "It's like being able to interact in real-time with a local Anthony Bourdain while they are giving you a tour," said Georama's Founder & CEO, Nihal Advani. Georama plans to partner with tourism organizations across Illinois and the U.S. to help inspire and engage prospective travelers around the world.