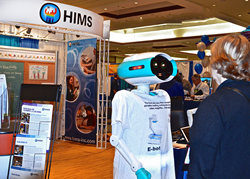 Events like ATIA offer [us] a unique opportunity to not only show off our new products but also to speak to a large number of consumers, teachers and trainers about their own challenges and experiences. . .
Orlando, Florida (PRWEB) February 06, 2015
HIMS, a leading manufacturer of products for people who are blind or who have low vision was in Orlando last week demonstrating some of the most buzz-worthy new products in the assistive technology industry. The HIMS team, with the help of a very special robot named "Big-E" met with teachers, trainers, counselors and consumers to discuss new products and ways to improve educational and professional opportunities for those with low vision and blindness.
HIMS, Inc. has spent the last 16 years consistently raising the bar for new technologies for people with vision impairments and this year to come will be no different. HIMS, who last year brought us E-bot, E-bot ADV and E-bot PRO, the FIRST and still the ONLY iPad compatible video magnifiers for reading, writing and distance – with OCR and Blaze EZ, the world's first dedicated DAISY and digital media player with integrated, standalone OCR will raise the bar yet again this year. Among the most highly-anticipated new products and innovations are:
Smart Beetle 14-Cell Bluetooth/USB Braille Display with Long-life Battery and 5 Simultaneous Bluetooth Connections: Smart Beetle is the most portable Braille display — Designed especially for connectivity with smartphones and tablets. Its 5 simultaneous Bluetooth connections, 1 USB port and 24-hour rechargeable battery will ensure you're connected to all your devices wherever and whenever you need to be.
Blaze ET and Blaze EZ DAISY Multi-Players with OCR: Blaze ET builds on the capabilities of Blaze EZ, a more basic player which was released at a conference in 2014, by adding a numeric keypad, calculator, optional dictionary and more. The Blaze line of multi-players is quickly setting a new standard for portable DAISY and digital book and music players – In addition to its DAISY and digital media playback capabilities, it also has integrated standalone OCR text-to-speech for reading printed documents on the fly.
Conference goers also had the opportunity to get hands-on demonstrations of other HIMS technologies including E-bot, E-bot ADV and Ebot PRO iPad Compatible Video Magnifiers with OCR, Braille Sense U2 Braille Notetakers, Braille EDGE 40 Braille Displays and CANDY 5 HD Handheld Video Magnifiers.
In speaking about this event, HIMS Inc. President, James McCarthy, who is himself legally blind, shared "Events like ATIA offer us, as manufacturers of technology products for people with low vision and blindness, a unique opportunity to not only show off our new products but also to speak to a large number of consumers, teachers and trainers about their own challenges and receive their personal and professional feedback for enhancements to current products and inspiration for new ones. We enjoyed a great opportunity to come face-to-face with many new contacts, but also many of our existing customers as well. That feedback has been truly invaluable to our organization."
To learn more about HIMS assistive technology products, visit http://www.hims-inc.com/products or call 888-520-4467 to speak to an assistive technology specialist right away.
Since its founding 16 years ago, HIMS has been devoted to improving opportunities for the visually impaired through the development of technology products for the blind and low vision. HIMS, Inc., an Austin, Texas-based company that specializes in assistive technology products is a wholly owned subsidiary of HIMS International Corporation.