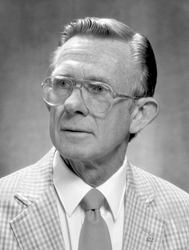 "Dr. Workman believed in me, lifted me via passion-driven instruction and learning, and inspired me to reach beyond my own vision. He changed my life."
Cumberland, MD (PRWEB) February 06, 2015
A former student inspired by Dr. Glenn O. Workman Jr., retired faculty member and administrator at Allegany College of Maryland, has founded a scholarship to honor his mentor's distinguished career.
This ACM graduate, who went on to a varied and successful professional career, is seeking to endow the scholarship he has begun and to encourage others to donate to it.
The donor, who wishes to remain anonymous, has pledged to match up to $10,000 toward the scholarship for every dollar that former students, college alumni and others donate to it.
Support of $20,000 will establish an endowed fund in the name of the professor emeritus with the ACM Foundation. The scholarship will benefit a second-year student in the forestry program, which Workman founded in 1970.
Workman, who earned a doctorate in botany, would be further honored with a renaming of an award bestowed each year to a first-year student by the science department. It will now be known as the Dr. Glenn O. Workman Jr. Plant Science Award.
Said the former student, "Dr. Workman believed in me, lifted me via passion-driven instruction and learning, and inspired me to reach beyond my own vision. He changed my life."
Workman, who joined the ACM faculty in 1968, when the community college was located on Frederick Street, served as science and forestry professor and Science Division chair until his retirement in 1992.
He founded the forestry program a year after the college moved to its Willowbrook Road campus. In 1986, he founded the ACM Honors Program, which he directed until his retirement.
Workman was the second recipient, in 1988, of the Sanner Award for Outstanding Teaching. After his retirement, the ACM Board of Trustees honored him with professor emeritus status.
An avid and accomplished tennis player, Workman coached intercollegiate tennis teams, compiling a 99-23-1 record over nine seasons. His players earned for ACM three state and regional championships and competed in the NJCAA national tournament.
In recognition of his coaching success, he was inducted into the NJCAA Men's National Collegiate Tennis Hall of Fame in 1995.
Workman was a 2013 recipient of the Dr. Richard Johnson Environmental Education Award for his contributions to environmental education as a part of the forestry department at ACM.
Last year, he was among three graduates inducted into the Keyser High School Legion of Honor in recognition of a distinguished career.
For information about the Dr. Glenn O. Workman Jr. Scholarship, and to offer support, contact the ACM Foundation at 301-784-5200.