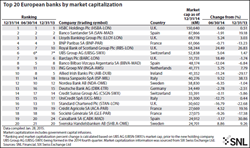 London, UK (PRWEB) February 09, 2015
HSBC Holdings Plc, Banco Santander SA, Lloyds Banking Group Plc and BNP Paribas SA remained in the top four places in SNL Financial's new league table of Europe's 20 largest banks by market capitalization.
At €150.64 billion as of Dec. 31, 2014, HSBC's market cap rose 6.60% from June 30, 2014, with its stock price increasing approximately 6% in the second half.
Santander hung on to its No. 2 spot despite a market cap decrease of 1.91% between June 30 and Dec. 31, during which time the Spanish lender's stock price fell 8%. In early January 2015, it completed a €7.5 billion capital increase.
With a market cap of €58.24 billion as of Dec. 31, Royal Bank of Scotland Group Plc moved up to fifth place in the table, from seventh place as of June 30.
At €52.84 billion as of Dec. 31, 2014, Switzerland's UBS Group AG remained in the No. 6 spot, with a market cap increase of 5.04%. The newly formed bank holding company was established in the fourth quarter of 2014 as a result of UBS AG's share-for-share exchange offer.
Barclays Plc rose two places to seventh, with its market cap up 18.49% over the second half to €51.73 billion as of Dec. 31.
Intesa Sanpaolo SpA, Deutsche Bank AG and Credit Suisse Group AG all rose three spots, while Banco Bilbao Vizcaya Argentaria SA and Standard Chartered Plc both dropped three spots compared to their positions at June 30.
Svenska Handelsbanken AB re-entered at No. 20 with a market cap of €24.70 billion, from No. 21 on June 30. The Swedish bank's stock price rose approximately 9% over the period.
Handelsbanken took the place of OAO Sberbank of Russia, which was 11th by market cap at June 30, 2014, but fell out of the top 20 amid the turmoil in its home country.
SNL Financial is a leading provider of financial information on more than 6,500 public companies and 50,000 private companies in business sectors critical to the global economy: Banking, Financial Services, Insurance, Real Estate, Energy, Metals & Mining, and Media & Communications. The SNL information service integrates breaking news, comprehensive data and expert analysis into an electronic database available online and updated around the clock.
For businesses and organizations interested in additional information or to receive a free trial of SNL's global banking product, please email sales(at)snl(dot)com, or phone +44 (0)20 7398 0873 (Europe, Middle East & Africa), +852 5808 1882 (Asia-Pacific), or +1 (866)296-3743 (America).
For more details on SNL's worldwide banking coverage please visit: http://www.snl.com