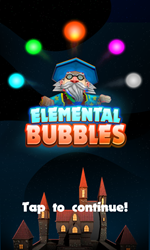 WindowsCentral.com review: " have to admit, the more I played Elemental Bubbles HD the more the game grew on me. As the cliché goes, Elemental Bubbles HD is an easy game to pick up but difficult to master."
(PRWEB) February 15, 2015
Available today on all major mobile platforms, Elemental Bubbles is a unique puzzle game where the user has to understand the elements hierarchy: fire beats wind, wind beats electricity, electricity beats earth, earth beats water and water beats fire. The user has to trigger a chain reaction between elemental bubbles that clears the screen of all the bubbles. The game challenges user's skills at strategic planning with a game clock that adds a sense of urgency. The game also offers global leaderboards and competition among Facebook friends.
Game play description: "Your goal is to clear all elemental bubbles from the sky and restore the balance in the elemental kingdom. Find out how to start an elemental sequence that will explode all the bubbles on screen! The challenge increases after each level! Are you capable of exploding them all?"
Read the praising review of George Ponder - Reviews Editor in windowscentral.com: "Battle the elements with the Windows Phone game Elemental Bubbles HD"
OS requirements:
Android: Android 4.0 or higher
iOS: 7.0
Windows Phone: 8.0
Download links (free):
iOS
Android
Windows Phone
VVSoftware is an independent apps and games home studio. "In VVSoftware we're doing our best to create innovative, yet casual, mobile games. Our work is derived from our passion for gaming and gamers. For this reason we offer all of our games for free with no inner purchase requirements."