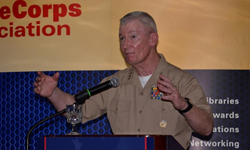 (PRWEB) February 07, 2015
More than 200 guests attended the MCA&F Hawaii MAGTF Dinner at the Kaneohe Bay Officer's Club on February 4, 2015. The annual dinner is in its second year and emphasizes professional military education, networking and camaraderie.
MCA&F' National Capitol Region Representative, retired Marine Corps SgtMaj Kevin Bennett served as master of ceremonies and welcomed the MarForPac band and color guard as they posted the colors and performed the National Anthem and Marine's Hymn.
MCA&F President and Chief Executive Officer, MajGen Edward Usher, USMC (Ret) greeted guests before dinner and extolled the benefits and responsibilities of MCA&F membership.
Following dinner, keynote speaker LtGen John Toolan, Commander Marine Forces, Pacific spoke at length as he updated guests on Marine Corps efforts to shift focus to the Pacific area of operations. He began his remarks with a show of appreciation for MCA&F.
"The Association does a lot for the Corps," Toolan said. He went on to recommend that all active duty Marines join.
The general declared that MarForPac was focused on training, conducting exercises and operating with allied partners throughout the area of operations. He presented an update on various partnerships and allies throughout the AOR and discussed changes to the original distributed laydown of forces working towards a growing presence in Australia.
He stressed that the Corps and its amphibious capabilities offer many options and reminded all that we continue to demonstrate our commitment to our Pacific allies by actually being there with our partners.
The Marine Corps Association & Foundation hosts more than a dozen professional events each year to foster professional development and encourage camaraderie in keeping with our tradition of "Advancing Leadership and Recognizing Excellence Since 1913."
See photos from the dinner: https://www.mca-marines.org/gallery/2015-hawaii-magtf-dinner.
For upcoming MCA&F professional events, visit: http://www.mca-marines.org/events.