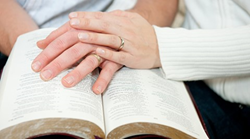 The new office is located on 102 South Pine Street Elverson, PA 19520.
Elverson, PA (PRWEB) February 10, 2015
Arleigh Hegarty began TriCounty Compass Ministries in January 2012 after being retired for two years. He served as a Pastor of Counseling and Pastoral Ministries at a church for 20 years. The Bible verse that helps set the focus for the Biblical counseling provided at Tri County Compass Ministries is "Live in peace with each other..warn those who are idle, encourage the timid, help the weak, be patient with everyone." The counseling service offered, is patient with all kinds of strugglers and offers genuine help to those who are facing large problems in their lives.
The current location of his office is a beautiful historic house where the office is located on the 2nd floor. Although, Arleigh was not specifically looking for a new location for the office, he was given an opportunity that was hard to resist. When asked about the advantages of relocating the office to the opportunity presented, Arleigh M. Hegarty counselor and owner of TriCounty Compass Ministries, starts listing "no stairs (a ramp leads from the parking lot to the second floor where the new office is located), better security for my counseling records, a well‐equipped conference room which will seat 10 people if need be, and it is not located on the main street of Elverson."
All the advantages listed by Arleigh will help clients and potential clients get to the office easily in a safe manor. More advantages include a short distance to St. Joseph's Health Clinic, the local post office and a doctor's medical building.
Arleigh Hegarty is very thankful for the current landlord and all that has been done to make TriCounty Compass Ministries possible, but the new situation has many advantages that made the relocation difficult to say no.
Tri County Compass Ministries is by appointment and serves the tri counties of Lancaster, Berks, and Chester Pennsylvania. There is no charge for an one‐hour initial session in which both the counselor and client will evaluate whether counseling with TCCM is the best for all involved. The new office is located on 102 South Pine Street Elverson, PA 19520.
You can read more about the organization by going to http://www.tricountycompassministries.com
Company Contact
Arleigh Hegarty
610‐823‐6790
tricocompassministries(at)gmail(dot)com