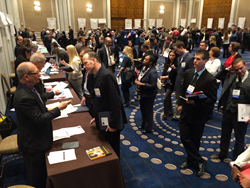 The process has been described as the speed-dating version of job-hunting.
Cambridge, MA (PRWEB) February 07, 2015
As Boston digs-out from a week of record snowfall and braces under the arctic chill of frigid temperatures, the international school job market is heating up this week. Over 500 international educators from around the world have come to Cambridge this weekend to attend Search Associate's International school recruiting fair.
The recruiting fair is organized by Search Associates, a recruiting organization for international schools that is commemorating its 25th anniversary this year. Crowding the lobby of the Hyatt Regency Cambridge, are over 460 teacher candidates who are making the rounds of interviews with recruiters representing over 135 schools.
The process has been described as the speed-dating version of job-hunting -- candidates book multiple appointments with visiting school representatives and interview back-to-back with as many as a half a dozen schools to see if there is a match. The process is equally grueling for school recruiters who have to balance the need to see as many candidates as possible while extending offers to teachers who they feel represent the best fit for their school before those candidates accept other offers.
This is the time of year when schools around the world look to hire teachers and administrators to staff their schools for the upcoming 2015-2016 school year.
Forrest Broman, CEO and founder of The International Educator, a quarterly newspaper that covers events, people and developments in international schools says the best advice for candidates is to be flexible about where in the world they want to go and to take advantage of having all those decision makers under one roof. "You get to meet the school head, and often a principal, in person, and it's your best chance to make your case as a desirable candidate," says Broman. "With over 130 international schools at these fairs, a candidate's chances of landing at least one solid offer are very good," according to Broman.
Even if a candidate walks away without a firm job offer, there is still a great benefit in attending advises Broman, "You have the opportunity to meet many experienced international school teachers, and learn about the challenges and benefits of an international teaching career and determine if it's right for you."
Teaching at an international school provides the opportunity to live and work overseas and enjoy excellent benefits such as free housing, often tax-free salaries, and other perks such as airfare to and from your host country. For teachers who want to teach their subject in English and travel, there's nothing quite like it," says Broman, "The world is literally your oyster!"
The International Educator (TIE), located in Hyannis, MA, is a non-profit organization that for over 25 years has published a quarterly newspaper dedicated to developing links among teachers and the extensive American and international schools network worldwide.