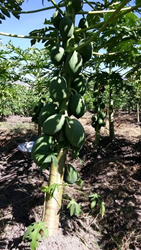 Goshen Haiti stands for productive commercial agriculture, reforestation, and greater food security for generations.
Ewing, NJ (PRWEB) March 17, 2015
In this St. Patrick season so symbolic to enjoying great food, drinks and all things green, Goshen Haiti stands for homegrown food security by seeking to establish multiple farms to help meet continuous food demands in Haiti. The company was established and registered in 2013, in part, to help reforest Haiti by making plants and fruit trees more accessible to communities. Plans are on the way to equip each Goshen Haiti plantation with nurseries.The first farm sits on 5 acres near Port-au-Prince. Plans are on the way to expand to 200 acres by 2016 in Thomonde. This is an opportunity to maximize production and provide employment, particularly to those returning from the Dominican Republic due to persecutions. So far, the company has managed to employ a total of 70 people in 2014. Goshen Haiti hopes to secure more farm lands as well as more funding to increase productivity and create more jobs.
The first harvest celebration of the Goshen Farm will be held on December 25th, 2015. This is the first major celebration to be held on a farm in Haiti with a full entertainment package. The local population, farmer associations, the media and the diaspora have already manifested interest to participate in this purposeful forward thinking motivational day.
This is an effort to make agriculture and tree planting an attractive and lucrative activity in the eyes of young Haitians who often see it as a waste of time. Efforts to reforest Haiti seem to be stagnant. But we must stay on the ball to intensify the process and raise the bar on how to win this war. Deforestation and poverty are directly linked. They are both injustices that must be toppled. Goshen Haiti cherishes the vision to help plant two (2) million trees by the end of 2017.
The farm is an attractive revolution to bring locally produced foods on the shelves of local super markets and tables across the country. This is a mission that no nation should shy away from as it constitutes a fundamental national welfare, to have a great amount of quality food for the greatest number of people.
Significant to the future of Goshen farming in Haiti is the expressed enthusiasm of the young men and women who have worked tirelessly to bring the harvest. The first truck loads of Goshen Haiti pumpkins and water melons were sold in the local markets in December 2014 due to the hard work of young students who found joy doing something they enjoy and that really matters in the quest for a productive Haiti under the leadership of Louinel Maximize Jean, the Green Leader of Haiti and Roselene Jean of Norigene Foundation. It is even more meaningful that those young workers were able to cater to their school obligations such as tuition, transportation, and other basic needs. This way, agriculture is being placed in its rightful position, the heart of the young Haitian, as a lucrative, rewarding socio-economic activity.
Goshen Haiti is ready to network or partner with established companies, organizations, government agencies, Farms, churches, media houses, magazines around the world who understand the nature of this movement and its value to generate greater food cultivation while protecting the environment. This is about the shaping of a nations destiny in dignity shining the light on its refusal to bow to the pressures of adversity but rather to conquer misery by its ingenuity paving the way for greater food security for generations.
Louinel Maximize Jean
Writer, Public Speaker, Administrator
Haiti's Green Leader
Each One Plants One
Goshen Haiti Farm
609-5161552
509-47169426
icmnloui(AT)gmail.com
http://www.goshenhaiti.com
https://vimeo.com/119430159?from=facebook