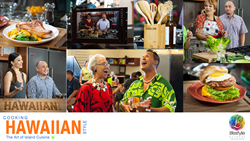 Our whole goal is to share with the world our amazing and versatile food from Hawaii... Cooking Hawaiian Style is a 30-minute show of pure aloha.
Redwood City, Calif. (PRWEB) February 06, 2015
Lifestyle Network announces a delicious addition to its Saturday morning line-up. Cooking Hawaiian Style, hosted by celebrity entertainer Lanai Tabura, premieres on Saturday, February 7th, 10am PT on Lifestyle Network. Join top Hawaiian chefs and celebrities as they share their favorite and often generations-old recipes and cooking techniques.
Bring back the tastes of Hawaii in your own kitchen! Watch and learn how to recreate island favorites like lilikoi malasadas, loco moco, fried saimin, guava chiffon cake, and many more authentic Hawaiian recipes and Hawaiian-style classics. Celebrate the rich flavors of the artful island cuisine.
Sharing the namesake of his hometown, Lana'i City, Lanai Tabura is a scintillating star of the islands. Radio disc jockey, actor, host, and comedian, Tabura yet again reinvented himself as a food pro with his 2013 victory as part of the team behind Aloha Plate, winner of Food Network's "The Great Food Truck Race".
"Our whole goal is to share with the world our amazing and versatile food from Hawaii," said Tabura. "The simplicity of the recipes is complemented by the complexity of flavors made rich by a melting pot of many cultures since the plantation days. Cooking Hawaiian Style is a 30-minute show of pure aloha."
Lanai invites audiences to savor a genuine Hawaiian food experience with Cooking Hawaiian Style, the TV show that brings aloha around the globe through food.
"Our viewers can expect big things from the network in 2015," said Rodney Catorce, Channel Head for Lifestyle Network Global. "We're building a bigger and bolder program line-up that will embolden, inspire, and entertain. Saturday mornings with Cooking Hawaiian Style will be delightful, bringing the islands' signature flavors into every home."
Also on Lifestyle Network this month, enjoy the addition of Celebrity Rush, Supermodel Me and Posh Pescatarian to your regular programming.
##
About Lifestyle Network:
Lifestyle Network is a living and travel TV guide that fulfills the lifestyle needs of modern Filipinos around the globe. A TFC premium channel, Lifestyle Network's programming is a unique combination of original and acquired shows airing 24/7 in English. Broadcast across the country, it is available through satellite, cable, and video on demand platforms. Based in Redwood City, California, the channel is owned by ABS-CBN International, a subsidiary of ABS-CBN Corporation - the Philippines' largest entertainment and broadcasting company, through ABS-CBN Corporation's wholly-owned subsidiary, ABS-CBN Global Hungary Kft. To find Lifestyle Network in your area and for exclusive content online, visit http://www.lifestylenetwork.tv.