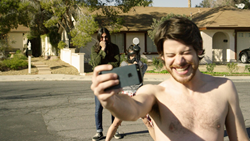 GoBe Games is like completing an entire season of The Amazing Race in one day with your best friends."
DALLAS/FORT WORTH, TX –
(PRWEB) February 24, 2015 -- Dallas adventure-seekers will prove themselves through a series of challenges at the debut of GoBe Games on May 22nd-23rd. The event is a 24-hour social adventure that will take place around the Metroplex and culminate with an after-party and prizes on May 23rd at Panther Island Pavilion. The organizers, known for putting on viral events around the country, such as Color Me Rad and Slide the City, are touting this to be their most epic experience ever. It's the first event of its size in the country, aimed at getting over 5,000 people out on a single weekend to complete as many of the 300+ challenges as possible.
Says organizer John Malfatto, "Too many of us live life through Instagram. We want people to stop 'liking' and start living. GoBe Games is like completing an entire season of The Amazing Race in one day with your best friends—minus the testimonials and lack of personal hygiene."
Teams in May's GoBe Games will be encouraged to complete challenges such as paddleboarding, riding a mechanical bull, doing 15 minutes of hot yoga wearing hot pants, filling a stranger's tank with gas, and eating a tablespoon of wasabi. Teams will take photos or video of their accomplishments and submit proof of their completion through the GoBe Games iOS and Android app.
The event is designed to get people doing things they've never done before—or never even fathomed doing. Challenge categories include GoBe Adventurous, GoBe Outdoors, GoBe Charitable, GoBe Fed, GoBe Smart, GoBe Cultured and GoBe Yourself, among others.
The creators of the game are no strangers to big events with a huge social appeal—they created Color Me Rad, which has had over 1.5 million participants in the last 3 years; The Dirty Dash, a mud run obstacle course; and the new event Slide The City which is slated for over 100 events in the U.S. this year. Events will open soon in cities across the U.S. with dates currently set for Seattle, Boston, Chicago, Jackson, Orange County, Phoenix and others.
But this is the event they are most excited about. "I've got friends who are always out doing awesome stuff on weekends—from rappelling down waterfalls to getting involved with local charities. Sometimes people like me just need a little kick in the pants to get out there participating with them," said Scott Crandall, one of the organizers. "Part of why we created this was to get people out in their city or in the outdoors. We want them out there 'living' and creating great experiences on their own."
The event features over 300 challenges, a real-time leaderboard, and an activity feed so teams can see how their competition is doing. The event finishes with a huge after party with a concert and awards ceremony, which is open to the public. The winning team even gets a free trip to Costa Rica.
"If you see a bunch of people running around town that weekend asking you for hugs, or asking you to reenact a viral video—they're not crazy, they're just trying to fit two years of excitement into 24 hours," Crandall said. "So be a good sport, and if they're cute, maybe join 'em."
Registration is now open at http://www.gobegames.com but closes on May 20th unless it sells out first. Each participant receives a backpack, t-shirt, temporary tattoo and enough memories to last a lifetime. The cost is $35 per person right now but prices increase as the event gets closer. The Games start Friday, May 22nd at 5 pm and the after party will be Saturday, May 23rd at Panther Island Pavilion starting at 6 pm and featuring various local bands and local food trucks.
To learn more about GoBe Games and to find out when an event will be coming to your area, go to http://www.gobegames.com.
About GoBe Games
GoBe Games is a social adventure race that encourages participants to Stop Liking and Start Living! Teams of 2-5 friends compete against thousands of other teams to complete as many of the 300+ challenges as possible in an action-packed 24 hours. Participants choose the challenges they like best and fulfill them in the most creative way that fits their team. They'll submit photos and videos through the GoBe Games app and we'll keep a live score of who's in the lead. After the 24 hours of racing are over, we'll hold an Awards Ceremony/After Party open to all (not just participants) with live music and local food to cap off the event. GoBe Games will have at least 30 events across the US in 2015.
Media Contact:
Scott Crandall
801-836-6910
scott(at)gobegames(dot)com
###