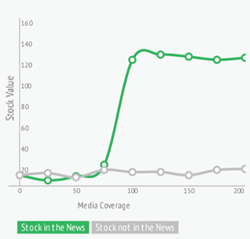 70 percent of investors reallocated their portfolios after reading a news story, according to Cogent Research.
New York, New York (PRWEB) February 09, 2015
MarketYourFund.com has just completed an exhaustive, comprehensive meta-analysis on the statistical benefits of financial PR for private equity and hedge funds.
Its white paper, A Statistical Look at the Benefits of Financial PR for Private Equity and Hedge Funds, culled through university studies, independent market research and public opinion surveys to measure how financial PR influences investor decision-making and the value of portfolios.
Even though the concept of hedge fund publicity stirs feelings of uncertainty with traditional hedge fund managers, the idea of appearing on business news networks or inside financial newspapers is gaining ground as an industry practice with major financial firms spearheading the movement.
The white paper uncovered five financial firms or funds with the highest ratio of positive impressions from social media, cited by research from a national independent marketing firm. Those firms and funds are among the most notable in the world, providing insight into why smaller firms and funds will likely follow the lead from the larger institutions and begin engaging actively in financial PR in the near future.
The white paper also explores research from Cogent Research, an independent market research firm, which analyzed behavior of 4,000 accredited investors in a national survey. Among the conclusions cited in that research:

1/3 of affluent investors are using social media for personal finance and investing decisions.
70 percent of affluent investors changed relationships or reallocated investments as a result of media content.
28 percent of affluent investors would see a financial firm as Innovative and Showing Industry Leadership by focusing on social media.
The white paper delves deeper into another study out of the University of California, Irvine and INSEAD where researchers looked at how media coverage corresponds to empirically proven moves in stocks.
The study found that a fund on average buys $100,000 more of a stock that gets media coverage than a stock without media coverage. The white paper provides more perspective on why news coverage moves stocks.
Contextualizing financial publicity with historical trends could help fund managers form a better strategy for finding new investors. The JOBS Act provides new financial marketing opportunities for hedge funds and private equity to reach institutional and accredited investors via the influential news outlets, yet two years later, few of the smaller funds and firms are participating.
This white paper is the first of its kind to statistically explore the trials and tribulations a fund may have engaging financial PR or marketing.
About the Author
Former journalist, Mark Macias, wrote and led the research for this financial white paper. Macias is a former Executive Producer with NBC, Senior Producer with CBS in New York and author of the book, Beat the Press: Your Guide to Managing the Media. He now runs his own global public relations firm, Macias PR.