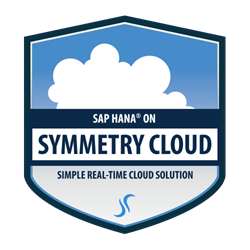 Symmetry and American Digital's long standing partnership made creating a unique and substantially lower cost SAP HANA solution possible.
Milwaukee, WI (PRWEB) February 09, 2015
American Digital Corporation (AD), a Chicago-based IT Solutions Provider, is pleased to announce their partnership with Milwaukee – based premier SAP technical managed services provider Symmetry Corporation to create an industry leading SAP HANA cloud solution. Together, American Digital and Symmetry designed a unique enterprise- class cloud solution designed to leverage the high performance of HP technology while offering the most cost effective and efficient cloud infrastructure. The SAP HANA offering in Symmetry's Cloud was purposely built to meets the growing demand within the SAP marketplace of customers seeking an affordable, high performing, cloud based solution.
Symmetry, a certified SAP hosting, cloud and SAP HANA® operations services partner and an industry leader in SAP Basis managed services is excited to have built a world-class SAP HANA Cloud infrastructure to support SAP customers. They are the first provider to offer an alternative cloud solution to support SAP HANA that saves an average of 50% on infrastructure related expenses.
American Digital is a certified SAP Partner trusted by leading organizations to build, customize, implement, and maintain business-critical SAP environments. Our team of solution architects, engineers and project managers have an average of 10 years of experience designing solutions that utilize SAP, SAP HANA and SAP TDI.
"The partnership between American Digital and Symmetry is built on a foundation of trust and expertise. Both organizations are laser focused on offering clients cutting edge technology to help improve efficiency while keeping costs down, "said Paul Guten, Senior Vice President of Sales-National Enterprise Accounts. "Symmetry's SAP HANA cloud solution is key for companies looking to keep their business agile and on top of the ever-changing SAP landscape," said Guten.
"Symmetry is excited to once again partner with American Digital to launch scalable, affordable, and secure SAP HANA Cloud solution. This SAP HANA Cloud offering was purposefully built - with the end client in mind. With the help of American Digital's hardware experts, we have created a cloud flexible cloud infrastructure to be scaled to any size customer – making SAP HANA a more affordable option," says Kevin Knuese, Chief Technology Officer Delivery at Symmetry. "Symmetry and American Digital's long standing partnership made creating a unique and substantially lower cost SAP HANA solution when compared to other traditional solutions a true success. Symmetry is excited to extend our SAP HANA offering to SAP customers around the world, through this affordable cloud based offering."
Interested customers are encouraged set up a personalized One-On-One Solution Meeting with a Symmetry architect to road map current systems into Symmetry's cloud. Visit http://symmetrycorp.com/sap-hana-cloud/request-a-quote/ for more information.
About Symmetry
Symmetry, an SAP Services Partner Certified in Hosting, Cloud and SAP HANA® Operations Services, provides technical managed services, security administration and project consulting in support of SAP solutions for customers in the U.S. and around the world. Based at Symmetry's Center of Expertise in Milwaukee, Wis., our large staff has extensive experience in Basis, the SAP NetWeaver® technology platform and security consulting. With a proven methodology for delivering technical managed services in support of SAP software, Symmetry delivers flexible, high-quality solutions that help reduce the total cost of ownership and enable high-performing, secure, stable SAP solution-based environments. Learn more http://symmetrycorp.com/.
About American Digital
As an HP Platinum Partner, American Digital provides custom system integration and consulting services across HP's complete enterprise portfolio of server, storage and networking products. We also support business critical applications including SAP, VMWare, RedHat, Microsoft, Oracle, MEDITECH, Epic and Ellucian.
Based in the greater Chicago area, American Digital has offices nationwide and services a variety of markets including health care, finance, manufacturing and distribution and higher education.
###
Sym-Hosting and Sym-Remote are service marks of Symmetry Corp. SAP, SAP NetWeaver, and all SAP logos are trademarks or registered trademarks of SAP AG in Germany and several other countries. All other marks are the property of their respective owners.