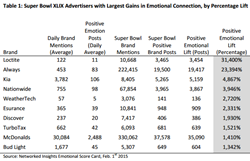 "The traditional method of measuring ads by 'likes' and retweets can be misleading." - Rick Miller, VP, Consumer Insights
Chicago, Illinois (PRWEB) February 06, 2015
According to a Networked Insights report analyzing consumer reaction on social media to commercials, Loctite scored big among brands at Super Bowl XLIX. An analysis from the marketing analytics firm Networked Insights reveals that the brand's #WinAtGlue ad led to the greatest growth in positive response from consumers compared to baseline conversations on social.
According to Networked Insights' Super Bowl Advertisers Emotional Scorecard, Loctite enjoyed the greatest percentage lift in positive emotions among brands that advertised during this year's Super Bowl. Emotional lift grew 31,400 percent, compared to Loctite's nearest competitor, Always (23,394 percent). Emotional lift compares pre-Super Bowl emotions toward the brand and those immediately after the ad aired, providing a more nuanced picture about the relative success or failure of an ad than just counting mentions or simple sentiment measures.
"The traditional method of measuring ads by 'likes' and retweets can be misleading," said Rick Miller, vice president of consumer insights at Networked Insights. "Loctite succeeded not only because consumers were talking about the ad, but because they were talking about it in ways that will ultimately benefit the brand. The ad led to a significant lift in consumer conversations expressing happiness and amusement."
While large brands like Budweiser dominated in the second half, commercials from smaller companies drove the social conversation during the first half. Esurance was the leading ad in terms of percent emotional lift, followed by Nationwide. According to Miller, initially consumers were responding well to the Nationwide ad, but they then ran a second, different ad and, reaction to the brand began to change.
"Nationwide hit a winner with Mindy Kaling, but really angered consumers with the implication that their kids might die in a horrific accident," said Miller. "By the end of the game, consumers' trust in the brand hadn't budged."
Complete metrics for the top ten ads by emotional lift are in the attached image.
Click here to view the full report. To learn more visit http://www.networkedinsights.com.
About Networked Insights
At Networked Insights, we help brands make faster, smarter and more audience-centric decisions. Our marketing solution analyzes and organizes real-time consumer data from the social web to produce strategic, actionable insights that inform better audience segmentation, content strategy, media investment, brand health and more. Learn more at networkedinsights.com and follow @netinsights.