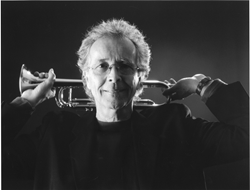 We are delighted to partner with the Herb Alpert Foundation in this significant ongoing endeavor
New York, NY (PRWEB) February 06, 2015
Established by The ASCAP Foundation in 2002 to encourage gifted jazz composers up to the age of 30, the program carries the name of the great trumpeter and ASCAP member Herb Alpert in recognition of The Herb Alpert Foundation's multi-year financial commitment to support this unique program. The recipients, who receive cash awards, range in age from 16 to 30, and are selected through a juried national competition.
Commenting on the awards, Paul Williams said, "Ingenuity and talent characterize all of our Young Jazz Composer honorees. The future of jazz has never sounded brighter. We congratulate the recipients and extend our gratitude to the dedicated panel of ASCAP composers who selected the honorees. We are delighted to partner with the Herb Alpert Foundation in this significant ongoing endeavor."
The Herb Alpert Young Jazz Composer Award Winners will be honored during ASCAP's Jazz Wall of Fame event at ASCAP at a date to be announced.
The 2015 Herb Alpert Young Jazz Composer Award recipients are listed with their age, current residence and place of origin: Caio Afiune, 25 of Boston, MA (São Paulo. Brazil); Quentin Angus, age 27 of New York, NY (Mount Pleasant, Australia); Bryson Barnes, age 29 of New York, NY (Fairbanks, Ak); Bryn Bliska, age 22 of Cambridge, MA (Greenbrae, CA); Lorenzo Carrano, age 27 of South Miami, FL (Naples, Italy); Mike Conrad, age 26 of Waterloo, IA (Arlington Heights, IL); Rafael Piccolotto de Lima, age 29 of Miami, FL (São Paulo. Brazil); Nick Finzer; age 26 of New York, NY (Rochester, NY); Jon Hatamiya, age 23 of Los Angeles, CA (Davis, CA); Josh Johnson, age 25 of Los Angeles, CA (Takoma Park, MD); Gene Knific, age 22 of Kalamazoo, MI; Pascal Le Boeuf, age 28 of New York, NY (Santa Cruz, CA); Guy Mintus, age 23 of New York, NY (Hod Hasharon, Israel); Adam Neely, age 26 of Brooklyn, NY (Silver Spring, MD); Mark Ninmer, age 16 of Taylorville, IL; Scott Ninmer, age 26 of Alexandria, VA (Taylorville, IL); Christopher Ott, age 27 of Brooklyn, NY (Kettering, OH); Josh Plotner, age 22 of Boston, MA (Park Ridge, IL); John Raymond, age 29 of Brooklyn, NY (Minneapolis, MN); Michael Schreier, age 23 of Greeley, CO (Omaha, NE); Erica Seguine, age 27 of Bloomfield, NJ (Albany, NY); Jeremy Siskind, age 28 of Kalamazoo, MI (Santa Ana, CA); David von Kampen, age 28 of Lincoln, NE (Farmington Hills, MI); Marcus Wilcher, age 30 of Austin, TX (Los Angeles, CA); Zac Zinger, age 26 of Woodside, NY (Pittsburgh, PA); Christopher Zuar, age 27 of New York, NY.
Composers receiving Honorable Mention this year are: Colleen Clark, age 26 of New York, NY (Norwich, CT); ArcoIris Sandoval, age 27 of New York, NY (Tucson, AZ); Drew Zaremba, age 23 of Denton, TX (Little Rock, AR).
The ASCAP composer/judges for the 2015 competition were: Chuck Iwanusa, Ted Piltzecker, and Sachal Vasandani.
Additional funding for this program is provided by The ASCAP Foundation Bart Howard Fund.
About Herb Alpert
Herb Alpert was born in Los Angeles and grew up in a house filled with music. He began his philanthropy in 1982, and with his wife, singer Lani Hall, oversees the Herb Alpert Foundation's commitment to funding the arts and arts education programs, as well as programs that promote compassion and well-being. Some of the Foundation's most significant commitments include the 2007 formation of the UCLA Herb Alpert School of Music, devoted to the performance and study of music in all of its global diversity, as well as the Herb Alpert School of Music at CalArts, the Herb Alpert Scholarships for Emerging Young Artists, and the P.S. ARTS Lawndale Arts initiative which has brought arts education to 4,000 students annually for the past decade, and has grown into a consortium of school districts and community partners called "TakePART" that now provides over 8,000 children with arts programs.
About The Herb Alpert Foundation
The Herb Alpert Foundation, a non-profit, private foundation established in the early 1980's, makes significant annual contributions to a range of programs in the fields of Arts, Arts Education and Compassion and Well Being. Its funding is directed toward projects in which Herb and Lani Alpert and Foundation President Rona Sebastian play an active role. [The Foundation does not accept unsolicited proposals.]
About The ASCAP Foundation
Founded in 1975, The ASCAP Foundation is a charitable organization dedicated to supporting American music creators and encouraging their development through music education and talent development programs. Included in these are songwriting workshops, grants, scholarships, awards, recognition and community outreach programs, and public service projects for senior composers and lyricists. The ASCAP Foundation is supported by contributions from ASCAP members and from music lovers throughout the United States. http://www.ascapfoundation.org.