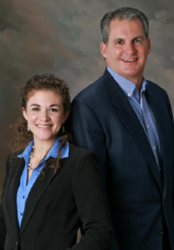 "Employee success is a primary focus at FiduciaryFirst. Behavioral Finance strategies combined with the financial wellness techniques yield powerful results." - Jamie Hayes
Orlando, FL (PRWEB) February 08, 2015
The National Association of Plan Advisors (NAPA) is proud to announce Jamie Hayes, QPCF, AIF, C(k)P and Don Faller, CFP, C(k)P, of FiduciaryFirst as part of 10 national semi-finalists for its 2015 401(k) Advisor Leadership Award.
Selected from a pool of thousands of retirement plan advisors, Hayes and Faller have been selected for the prestigious NAPA 401(k) Advisor Leadership Award recognizing leadership, innovation and contributions to the retirement plan industry.
Three of the 10 advisors will be acknowledged at the 2015 NAPA 401(k) SUMMIT, March 22-24 in San Diego, CA, as recipients of the 2015 NAPA 401(k) Leadership Award.
Ms. Hayes is an outspoken protagonist of the behavioral finance movement and has gained national notoriety for focusing on the success of employer clients. She has extensive experience helping Plan Committees design, implement, and manage comprehensive retirement plan strategies that deliver documented results by utilizing the powerful combination of Prudent Fiduciary Process (PFP) and the science of Behavioral Finance.
Don Faller has built a nationally recognized reputation as an expert in matters pertaining to the financial operation of ERISA plans and related retirement benefit programs. Mr. Faller is regarded as an expert in a wide range of ERISA related matters and at finding, and managing hidden plan fees and costs, as well as pioneering, designing, and implementing proactive fiduciary oversight strategies.
FiduciaryFirst is recognized as a national leader in developing plan strategies in defined contributions plans of all types. "Employee success is a primary focus at FiduciaryFirst. Behavioral Finance strategies combined with the financial wellness techniques yield powerful results," says Hayes.
FiduciaryFirst has implemented The Participant EffectTM to promote state of the art plan design through Behavioral Finance and a NEW approach that includes Financial Wellness. The Participant EffectTM seeks to drive success stories, including utilizing all types of Defined Contribution plans to drive reduced healthcare costs for the employer and a higher probability of a more confident retirement for employees. For more information, please visit http://www.fiduciaryfirst.com or call anytime at 1-866-625-4611.
Securities and Advisory Services offered through LPL Financial. A Registered Investment Advisor, Member FINRA/SIPC
The Award is based on a combination of voting by NAPA members and a profile of the advisor's business.