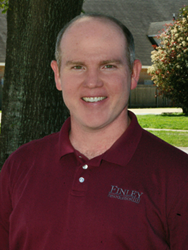 Lafayette, LA (PRWEB) February 06, 2015
During Gum Disease Awareness Month this February, Dr. James M. Finley seeks to educate patients in Lafayette, LA about the devastating effects periodontal disease can have on oral health. It is the most prevalent disease in North America, affecting eight out of every 10 adults. Researchers have recently linked oral bacteria to other serious health issues such as heart disease, diabetes and stroke. The American Academy of Periodontology warns that an individual with gum disease is nearly twice as likely to develop cardiovascular problems.
Plaque is a mixture of bacteria and food acid, and it is constantly building up around the base of teeth. When it is not removed, it hardens into tartar below the gum line. Good oral hygiene behaviors such as brushing and flossing twice daily eliminate most of the plaque. Professional dental cleanings and regular exams ensure that no plaque and tartar remain and that the teeth are healthy. Even when an individual at Lafayette, LA practices perfect dental hygiene, other risk factors such as hormone changes, tobacco use or medication may raise the possibility of developing periodontal disease. In these cases, Dr. Finley may recommend more frequent checkups to ensure that the teeth and gums remain healthy.
Many people suffer anxiety about visiting a dentist. Knowing an issue requires dental care may cause some to procrastinate about scheduling an appointment. When gums are red, tender or bleeding, it is critical for an individual to seek treatment immediately. Typical procedures to treat moderate to severe gum disease involve cutting, scraping and stitches. Dr. Finley is aware of the pain and discomfort caused by traditional remedies. He has adopted the LANAP® protocol, which is an FDA-cleared laser gum surgery. The PerioLase® MVP-7™ laser uses a beam of light to access and eradicate bacteria without requiring the gums to be cut open. The laser minimizes trauma and stimulates new bone growth, speeding recovery time. Pain and trauma are significantly reduced, and patients recover much more quickly.
During Gum Disease Awareness Month, Dr. Finley encourages Lafayette, LA residents to take the opportunity to learn more about advanced treatment options for periodontal disease. He provides more information about the effects of periodontitis and the LANAP® protocol on his website.
About the Practice
Finley Periodontics is a periodontal practice offering personalized dental care for patients in Lafayette, LA. Dr. James M. Finley received his D.M.D from the University Of Mississippi School Of Dentistry and his certificate in Periodontics from Louisiana State University School of Dentistry. He went on to earn his M.S. in oral biology from Louisiana State University while serving as a full time assistant professor. Dr. Finley is part of one percent of dental professionals providing the LANAP® FDA cleared laser procedure for gum disease and periodontal treatment. To learn more about Finley Periodontics and their dental services visit their website at http://www.finleyperio.com and call (337) 504-7263.