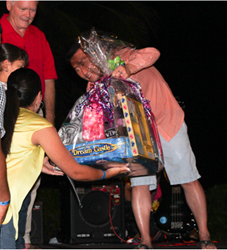 Our company is committed to helping the communities where we live, work and play.
Dallas, TX (PRWEB) February 10, 2015
Since she was a girl, Kristy dreamt of going to Paris. Because of the generosity of DeWolff, Boberg & Associates (DB&A) employees, Kristy's Make-A-Wish adventure took her from Florida to Paris to see the Mona Lisa at the Louvre, the Eiffel Tower, Versailles Palace, Notre Dame and even a cruise down the Seine. Kristy recounts it as one of the most awesome experiences of her life.
Once again, DB&A has teamed up with Make-A-Wish an organization aimed at granting the wishes of children with life-threatening illnesses. In addition to donating funds, DB&A employees are also donating unused airline miles that are essential to getting wish kids to their destinations. Employees who fly on Delta, United, and US Airways are effortlessly donating frequent flier miles, in just a few easy steps, by visiting the Make-A-Wish website.
DB&A's CEO Michael Owens stated, "We are grateful for the generosity of our employees. Our company is committed to helping the communities where we live, work and play." By the end of 2014, DB&A employees had contributed 285,649 miles. These donated miles never expire and are never used for anything other than wish travel.
Kindness is Contagious
DB&A held a fundraiser at the December 2014 annual meeting in San Juan, Puerto Rico called "Dunking for Donations". A dunk booth was set up, and employees raised money by giving cash donations in exchange for balls to throw and dunk the senior leaders of the company. DB&A raised enough money to send six-year old Shaniska to Disney World to meet Frozen's Princess Elsa.
The Wyndham Grand Rio Mar Hotel partnered with DB&A and the Puerto Rico chapter of Make-A-Wish to make Shaniska's visit to the hotel a memorable one. Upon her arrival, she and her family were greeted by Santa and Mrs. Claus. They also enjoyed a night at the resort in a room decorated especially for her.
The impact of a wish can last a lifetime. In fact, medical professionals say wish experiences can improve children's states of mind, can make them more willing to comply with treatment requirements, and can even improve their physical health. Former wish kids have indicated that their wish experiences improved their health and strength, gave them more confidence and the will to pursue more challenging life goals, made them more philanthropic and compassionate, and even helped save their lives.
About Make-A-Wish®
Make-A-Wish grants the wishes of children with life-threatening medical conditions to enrich the human experience with hope, strength and joy. According to a 2011 U.S. study of wish impact, most health professionals surveyed believe a wish-come-true can have positive impacts on the health of children. Kids say wishes give them renewed strength to fight their illnesses, and their parents say these experiences help strengthen the entire family. Based in Phoenix, Make-A-Wish is one of the world's leading children's charities, serving children in every community in the United States and its territories. With the help of generous donors and more than 25,000 volunteers, Make-A-Wish grants a wish somewhere in the country every 38 minutes. It has granted more than 240,000 wishes since its inception in 1980; more than 14,000 in 2013 alone. Visit Make-A-Wish at wish.org to learn more.
About DeWolff, Boberg & Associates (DB&A)
DB&A, founded in 1987 by Lou DeWolff and Tim Boberg, is a global management consulting firm specializing in helping companies of every description achieve objectives through improved performance and resource utilization. Working with every level of management, DB&A focuses on organizational and cultural issues, with a special emphasis on developing accountability and leadership at the employee and front-line supervisory levels. Heading into its 28th year in business, DB&A provides consulting services to a variety of clients worldwide.