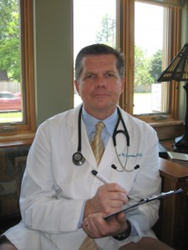 Naperville, IL (PRWEB) February 06, 2015
Dr. Kaz Zymantas is honoring American Heart Month this February by warning patients and highlighting some of the cardiovascular diseases that may be linked to gum disease. Research shows that people who suffer from gum disease are also at a greater risk for developing heart disease. Dr. Zymantas helps patients in Naperville, IL, reduce this significant risk by offering the LANAP® protocol, which is a minimally invasive periodontal disease treatment.
Researchers are still exploring the relationship between gum disease and heart disease. However, according to the American Academy of Periodontology, various studies have found that the people with gum disease are more likely to suffer from heart disease. In one study, the existence of gum disease and other oral health problems predicted a person's likelihood of suffering from heart disease as accurately as high cholesterol levels. The reason for this relationship is unknown. However, studies have shown that gum disease is associated with inflammation, since harmful bacteria can enter the bloodstream through the gums and circulate throughout the body. Researchers believe this inflammation could be a factor that contributes to heart disease.
Dr. Zymantas encourages patients suffering from periodontal disease in Naperville, IL, to take the effects of heart disease seriously, given the impact that the disease has in the U.S. The Centers for Disease Control and Prevention reports that cardiovascular disease is a leading cause of death, accounting for about a quarter of all deaths in the country. Heart disease is also a top cause of disability. Although a causative relationship between gum disease and heart disease has not been established, Dr. Zymantas advises patients to consider gum disease treatment as a preventative measure that also offers other benefits for oral health.
Dr. Zymantas offers patients a convenient, less painful method of gum disease treatment with the LANAP® protocol, which uses a laser to remove gum disease. This procedure preserves healthy tissue, reducing the likelihood of patients experiencing bleeding and pain. The procedure also poses a low risk of health complications, such as infection. Patients who want to learn more about the LANAP® protocol or the health risks of gum disease can visit Dr. Zymantas' website. Patients who want to protect their health by seeking periodontal disease treatment in Naperville, IL, are welcome to call Dr. Zymantas' office or visit his website to make an appointment.
About the Doctor
Dr. Kaz Zymantas is a general dentist offering personalized dental care for patients in Naperville, IL for over 30 years. Dr. Zymantas received his Doctor of Dental Surgery from the University of Illinois and has earned a fellowship in the American Academy of General Dentistry, an honor belonging to only three percent of dentists in the world. Dr. Zymantas is part of one percent of dental professionals providing the Laser Assisted New Attachment Procedure (LANAP®), FDA cleared laser procedure for gum disease and periodontal treatment. To learn more about Dr. Zymantas and his dental services visit his website at http://www.lanapnaperville.com.