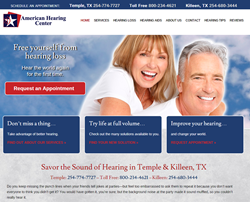 Hearing loss is the third most common physical condition after arthritis and heart disease. Get your hearing tested today!
Temple, Texas (PRWEB) February 10, 2015
American Hearing Center, a full-service audiology practice with Texas locations in Temple and Killeen, is excited to announce the launch of its new website, http://www.americanhearing.info.
The revamped website will make it easier for patients to learn about hearing loss, evaluate hearing aid options, and schedule an appointment with a simple online form. The website also provides information on what to expect from hearing tests and offers a free hearing aid comparison guide — presented in a consumer-friendly, easy-to-read format.
In the guide, patients can learn all about hearing aid styles, features, prices, batteries, accessories, and the process of selecting the right hearing aid based on needs and lifestyle considerations. The guide, along with the website, provides the patient with all of the information they'll need for a productive and stress-free first visit, including tips on how to prepare for the appointment, what to expect from testing, how hearing aids are fitted, and what to expect from follow-up care.
According to the Hearing Loss Association of America, hearing loss is a major public health issue that is the third most common physical condition after arthritis and heart disease. One of the main goals of the new website is to increase awareness of this serious public health issue, and to provide useful information to patients to make their hearing appointments as productive as possible.
In addition, the website includes a section titled "hearing tips," offering expert articles on all-things hearing, as well as a link to American Hearing Center's Facebook page, which provides additional fun and informative content. Also available are video testimonials from former patients highly recommending the practice.
About Dr. Cathy Comstock, Au.D.
Dr. Cathy Comstock is a doctor of audiology and has been the owner of American Hearing Center since 1989. Dr. Comstock's extensive experience includes 26 years as a practicing audiologist and the completion of a Doctor of Audiology (Au.D.) degree from Arizona School of Health Science. Upon graduating with her doctoral degree, Dr. Comstock received one of only two Audiology Foundation of American Professional Leadership Awards presented to the graduating class.
Dr. Comstock also holds a Master of Arts in Audiology from the University of Texas and a Bachelor of Science in Education of the Hearing Impaired from Texas Tech University. Dr. Comstock works closely with medical, educational and industrial communities in order to best meet the hearing health care needs of Central Texas.
About American Hearing Center:
American Hearing Center is a full-service audiology practice with locations in Temple and Killeen Texas. Known for its cozy and comfortable offices, its atmosphere more closely resembles a friend's living room than a typical doctor's office. Staffed with personable and highly-trained employees, American Hearing Center provides expert, individualized care and state-of-the-art technology to bring better hearing to Central Texas.
Contact:
Cathy Comstock, Au.D.
http://www.americanhearing.info
American Hearing Center - Temple location
1618 Canyon Creek Drive Ste 140
Temple, TX 76502
Phone: 254-295-1946
Toll Free: 800-234-4621
American Hearing Center - Killeen location
2806 S WS Young Dr Ste C
Killeen, TX 76542
Phone: 254-295-1940
Toll Free: 800-234-4621