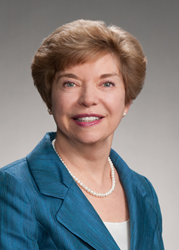 Denver, CO (PRWEB) February 09, 2015
The University of Colorado Law School has announced that Holland & Hart Partner Betty Arkell will receive the 2015 William Lee Knous Award – Colorado Law's highest alumni honor.
Each year at its spring alumni awards banquet, Colorado Law honors outstanding individuals for their contributions to the legal profession and dedication to Colorado Law. Awarded annually since 1960, the William Lee Knous Award recognizes an individual's outstanding achievement and sustained service to Colorado Law. Arkell also was recognized with Colorado Law's Distinguished Achievement in Private Practice Award in 1991.
"Betty Arkell is an exemplar of Colorado Law and merits the Knous Award, the highest award we give for outstanding service to the community and Colorado Law," said Colorado Law's Dean Phil Weiser. "As a pioneer in the field of venture capital, Betty not only helped develop a field of law in Colorado, but she also has served as a mentor for generations of lawyers and business persons and an unparalleled supporter of entrepreneurship. She gives of herself to a range of organizations and is widely recognized as a leader in the entrepreneurial community." Weis said Arkell's leadership at Colorado Law has taken a number of forms, including co-chairing our Campaign Committee, leading her class's reunion, and regularly mentoring students.
"I am very honored to be receiving the William Lee Knous Award," Arkell said. "Sharing my time and resources with the school allows me to show my gratitude and to contribute to the future of the legal profession and those who will serve in our justice system."
Arkell has more than 35 years of experience as a corporate and securities lawyer. Her clients include established and emerging growth companies as well as venture capital and other private equity funds. She has a long history of representing entrepreneurs as they start a business, guiding them through rounds of venture capital and private equity financing, providing general corporate counseling, and then leading them through a successful merger or acquisition.
Her prior employment experience includes almost 10 years in the Venture Capital/Leveraged Buyout Group of Kirkland & Ellis, where she was a partner. She was counsel to the Venture Capital Association of Colorado at the time of its formation.
Arkell's exemplary legal work has been recognized with honors and accolades by The Best Lawyers in America©; Colorado Super Lawyers®, Securities and Corporate Finance; Chambers USA – America's Leading Lawyers for Business; the Denver Business Journal, Denver's Outstanding Woman in Business (Professional); Law Week Colorado, Top Women Lawyers; and LawDragon, one of the 500 Leading Dealmakers in America.
An active member of the entrepreneurial community, Arkell serves on the Board of Directors of the Colorado Technology Association, the Board of Advisors of the Jabs Center for Entrepreneurship at the University of Colorado at Denver, the Board of Advisors for Startup Colorado, and the Board of Directors of Rockies Venture Fund. She is an Advisor to the Colorado Blackstone Entrepreneurs Network and has been a member of the Governor's Venture Capital Investment Advisory Committee.
Arkell also has been active in community and Bar Association organizations. She served on the Board of Trustees of Graland Country Day School, the Board of Directors of Open World Learning, and the Vestry of Church of the Ascension (Denver). She is the Past Chair of the Colorado Bar Association, Business Law Section and Past President of the Colorado Association of Corporate Counsel. Arkell has been a member of the Board of Governors of the Colorado Bar Association, the Board of the Colorado Lawyers Committee, and the University of Colorado Law Alumni Board.
She received her J.D. from the University of Colorado (Order of the Coif), an M.A. in Political Science from the University of Colorado, and a B.A. in Political Science from Northwestern University.
–30–
About Colorado Law
The University of Colorado Law School is one of the top public law schools in the United States. Established in 1892, Colorado Law is a supportive and diverse community of scholars and students in a place that inspires vigorous pursuit of ideas, critical analysis, and civic engagement in order to advance the rule of law in an open, sustainable society. Proceeds of the Colorado Law Alumni Awards Banquet, now in its 34th year, benefit the Dean's Fund for Excellence, which supports scholarships and other programs. This year's banquet is March 11, 2015, at the Seawell Grand Ballroom at the Denver Center for Performing Arts.
About Holland & Hart
Holland & Hart LLP delivers integrated legal solutions to regional, national, and international clients of all sizes. Since its inception in 1947, Holland & Hart's more than 470 lawyers have consistently been recognized by leading national and international peer and industry review organizations for innovation and dedication to the practice of law. For more information, visit http://www.hollandhart.com.