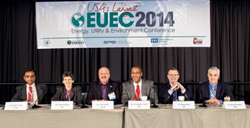 We're proud to have these top leaders address important topics from their perspectives at EUEC.
San Diego, CA (PRWEB) February 09, 2015
EUEC announced its 2015 conference will open with presentations by Janet McCabe, Acting Assistant Administrator, U.S. Environmental Protection Agency's Office of Air and Radiation; Dr. Julio Friedmann, Deputy Assistant Secretary for Clean Coal, U.S. Department of Energy's Office of Fossil Energy; Warner L. Baxter, Chairman, President and CEO, Ameren Corporation; Dr. Barry R. Wallerstein, Executive Officer, South Coast Air Quality Management District;Rear Admiral Len Hering (U.S. Navy, retired), Executive Director, California Center for Sustainable Energy; and Dr. Prabhu Dayal, President of C-Trade and Chairman of EUEC. 1,900 attendees are pre-registered to attend EUEC 2015, the 18th annual energy, utility and environment conference, being held February 16-18, 2015, at the San Diego Convention Center in San Diego, California.
After the plenary session, EUEC's 10-track technical program will include over 450 expert speakers from energy companies, government, academia and consulting firms discussing current issues and updates on air policy and regulations, mercury and multi-pollutant control, air pollution monitoring, energy policy, control technologies, EPA climate change regulations, renewable energy, operations and management, carbon capture and storage, water and EPA 316(b) rules, and alternate fuel technologies.
"We're proud to have these top leaders address important topics from their perspectives at EUEC," said Dr. Prabhu Dayal, EUEC Chairman. "We are excited to introduce the Clean Car Expo which encourages the use of alternate fuel vehicles to reduce greenhouse gas emissions from the transportation sector."
Attendance at the concurrent Clean Car Expo in the Sails Pavilion is free from 9 a.m. to 7 p.m. on Monday and Tuesday, February 16-17, 2015, but attendees must still pre-register online for a badge pass.
This is the first time EUEC will be jointly held with the Clean Car Expo, which will bring together the world's leading alternative fuel vehicle (AFV) manufacturers, infrastructure developers, fuel providers, and consultants to discuss the latest developments in electric vehicles (EVs), compressed natural gas vehicles (CNG), hydrogen vehicles (H2), natural gas vehicles (NGV), biofuel, ethanol, propane, hybrid and fleet vehicles.
Clean Car Expo will showcase all types of alternative fuel and fleet vehicles from BMW, Chrysler, Fiat, Ford, GM, Mercedes-Benz, Mitsubishi, Tesla, Toyota, and other new manufacturers.
Oak Ridge National Laboratory (ORNL), the largest U.S. Department of Energy science and energy laboratory, will exhibit its 3D printed vehicle and parts technology and highlight its research and development activities in manufacturing and vehicle technologies in the Clean Car Expo. The ORNL models are printed using carbon fiber reinforced material. The design allows integrated components to be tested and enhanced in real time, improving the use of sustainable, digital manufacturing solutions in the automotive industry.
To register or exhibit for EUEC 2015 or Clean Car Expo, visit http://www.euec.com or http://www.cleancarexpo.com or call (520) 615-3535.
About EUEC and Clean Car Expo
EUEC, the 18th annual energy, utility and environment conference organized by a team of directors from the US DOE, the Edison Electric Institute and C-Trade, is a professional networking and educational event where government, industry and environmental groups meet to share strategies and ideas for safe and clean development and use of domestic energy resources. EUEC features a plenary program, followed by a technical program with concurrent tracks with 450 speakers, and EUEC exhibit companies provide the latest innovations and technologies that can benefit the energy and utility industry. The inaugural Clean Car Expo will be held in conjunction with EUEC 2015. Combined attendance for EUEC and Clean Car Expo is expected to include 3,000 attendees, 500 speakers and 300 exhibitors from the energy, utility and transportation industries.