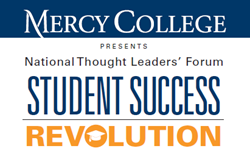 Dobbs Ferry, New York (PRWEB) February 10, 2015
The question persists - who gets to graduate? Mercy College, a private college that has long been committed to educating low-income first generation students, is putting that question out in the national conversation as it hosts a conference on student success.
National Thought Leaders' Forum
Student Success Revolution
March 9
Mercy College
Dobbs Ferry, New York
Mercy College President Tim Hall said: "As a nation we need to be focused on not only getting low-income first generation students to college – but through college to graduation day. The socioeconomic level you are born into should not dictate your success level."
Speakers Include

Martha Kanter – United States Department of Education Former Undersecretary for Postsecondary Education
Paul Tough - New York Times Journalist and Bestselling Author of How Children Succeed and Whatever It Takes
David Laude – University of Texas at Austin Senior Vice Provost
Tristian Denley – Tennessee Board of Regents Vice Chancellor of Academic Affairs
Ken Bain – Best Teachers Institute President
Cynthia Rivera Weissblum - President, Edwin Gould Foundation
There are hundreds of thousands of students across the nation who fall into the category of "at risk for graduation" because of their socioeconomic background. These students desperately want to earn a four-year degree – but they encounter issues that students from more affluent families do not. Mercy College has always stayed true to its mission, committed itself to educating these students and help them transform their lives through higher education.
Mercy College's Executive Director of Institutional Effectiveness Andy Person said: "The trend in the country now is that rich kids are graduating and poor kids aren't – we cannot accept this. Especially because, today, a college degree is more valuable than ever before. The basic truth is – if you want to work in the New York metro area, you need a college degree."
While it is well established that a college degree is needed to compete in a global economy the problem persists that students from the bottom income bracket are not graduating at the rate they need to. Person said: "The focus has to be not only on enrolling in college – but helping them finish college. At Mercy's conference the thought leaders in higher education will be coming together to have a very frank discussion about how we can improve the system and better educate the students who are most at risk of not completing college."
Hall said: "Here at Mercy College we are working hard to improve our graduation rates. We have seen improvement with our PACT program, a program that pairs students with mentors who assist them with the challenges they face in college, but we know there is still work to do. As a nation, we need to come together with thought leaders and find the best practices to get students to graduate."
About Mercy College
Founded in 1950, Mercy College is a private, not-for-profit higher education institution that offers more than 90 undergraduate and graduate degree and certificate programs within five prestigious schools: Business, Education, Health and Natural Sciences, Liberal Arts and Social and Behavioral Sciences. Mercy College offers an engaging and personalized learning experience that includes the College's revolutionary Personalized Achievement Contract (PACT) program. The Mercy College PACT is the first program of its kind and now serves as a nationally recognized model for mentoring. http://www.mercy.edu/ 877-MERCY-GO.