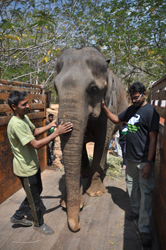 Suzy is such a gentle elephant that it is hard to believe somebody could be cruel and abusive to her.
Agra, India (PRWEB) February 07, 2015
A blind elephant named Suzy, formerly one of India's 67 remaining circus elephants, has been rescued and is on her way to the Elephant Care and Conservation Centre, run by Wildlife SOS. The road journey will take several days, and she is being escorted by two veterinarians, several paravets and six elephant workers in a convoy prepared with food and medicine for any eventuality. Her rescue is the first in a campaign to make elephants performing in circuses a thing of the past in India.
Suzy is blind in both eyes and suffered a lot of neglect at the circus where she was forced to perform. She was chained most of the time with little or no exercise. Her dental health appears to be severely compromised, as indicated by the undigested food in the dung that was examined by a team from Wildlife SOS. Her age appears to be much more than what was mentioned in the ownership certificate. From close observation of the stereotypic behavior displayed by Suzy, it was evident to elephant experts that she was subjected to mental torture and continuous chaining and confinement.
Initially, Suzy was shifted to a temporary holding facility of the Forest Department in Tirupati Zoo, where she was provided veterinary intervention that saved her life. It then took several weeks to get the paperwork and transport documentation to shift Suzy from the temporary holding facility to her final home, where she will receive veterinary care and lifetime support.
The Wildlife SOS team of elephant experts travelled from the Elephant Conservation and Care Center in Mathura to Tirupati Zoo in Andhra Pradesh state to rescue Suzy in cooperation with the State Forest Department. The team reached the location several days prior to the rescue to make the elephant comfortable for the journey. Finally, on the 5th of February, 2015, Suzy's journey started off at 4 AM when a team led by the Wildlife SOS founder Kartick Satyanarayan and Veterinary Director Dr Arun A Sha, along with ten other team members, loaded her into the truck and began the drive to Mathura.
After eradicating the brutal, centuries-old practice of dancing bears in India, Wildlife SOS has now taken the first step toward rescuing all of the remaining circus elephants in India, in partnership with the Government. Suzy was one of 67 elephants targeted for rescue.
Dr Vibha Raghuram, Wildlife SOS veterinarian, said, "Suzy is such a gentle elephant that it is hard to believe somebody could be cruel and abusive to her. She has lots of abscesses, injuries and chronic issues that need veterinary intervention. Her feet are also in very bad shape and she needs urgent foot care. I look forward to working with her and making her free from pain and fear at our rescue centre."
Kartick Satyanarayan, Co-Founder of Wildlife SOS, said, "We would like to acknowledge the role played by Project Elephant, MOEF - Government of India, Chief Wildlife Warden, Andhra Pradesh Forest Department, Animal Welfare Board of India, PFA, WRRC and FIAPO in helping to secure Suzy's freedom."
Geeta Seshamani, Co- Founder of Wildlife SOS, said, "Suzy's plight is typical of many captive elephants in the streets and animals being used for performances. We hope the case of Suzy will highlight this issue and will create awareness amongst the public who will not pay for elephant rides and to watch elephants perform in circuses or for touristic activities. We will also encourage people to report to us any such elephant seen in any part of India with pain or injury."
Smt. Maneka Gandhi, Honorable Minister for Women and Child Development, Government. of India, said, "I am very happy that the circus elephant will receive veterinary care at the Elephant Center in Mathura. There is a need to strengthen and expand elephant rescue centers in India. I am hopeful that with support from the Project Elephant, CZA and Ministry of Environment and Forests, two elephant centers in Mathura and Etawah will be expanded and established soon to be able to house a larger number of rescued elephants."