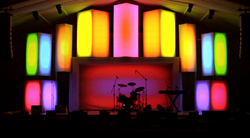 We have extensive experience creating illusions like those, so we know how challenging it can be
Chicago, IL. (PRWEB) February 07, 2015
The Super Bowl is among the most watched television events of the year, and 2015 was no different. Super Bowl XLIX was by all counts an incredibly successful game—with a great ending, especially if you happened to be rooting for the Patriots. But the big game is a huge draw because it's not all about the game. It appeals to non-sports fans, as well, because of the top-notch advertisements and entertainment. Indeed, the Halftime Show, this year featuring Katy Perry and some now-famous dancing sharks, had people talking long after the game. Perry's halftime show also featured some relatively new technology in entertainment: 3D projection mapping. Projection mapping, also known as video mapping and spatial augmented reality, used in the Super Bowl Halftime Show, is a technology and service also available from Chicago-based 3D projection company Chicago Projection Mapping. Chicago projection mapping is located in the Chicago Area and can be reached at their main office line at 630.620.0000 - View CPM demo video.
In some ways, the 3D projection mapping employed during the Halftime Show was relatively standard fare: pulsating lights on the floor, various colors, and so on—and if it stopped there, you might be forgiven for thinking of projection mapping as a kind of glorified light show. But looking at the entirety of the Halftime Show provides a more accurate glimpse of how live event, or staged architectural 3D projection mapping can be used to build a narrative, push the envelope, and create some real spectacle that will leave people talking for a long time to come.
"We were impressed with what they were able to accomplish," said Mark Smith, owner and founder of Chicagoland-based Chicago Projection Mapping. "We have lots of experience surmounting similar challenges, so we know what it's like." Smith said, "We have extensive experience creating illusions like those, so we know how challenging it can be."
The possibilities displayed at the Super Bowl fall well within the capabilities of Chicago Projection Mapping, and for those looking for an equally glamorous splash, the Halftime Show serves as an excellent proof of concept. Video projection mapping is essentially a way to make an image or series of images look 3D, simply by virtue of how they are mapped on to a surface, while using video and animation in very precise ways. Projection mapping is a great way to heighten the experience—whether that experience is outside brand launch, an interior corporate event, a live stage performance, in an apartment building lobby, or at a business conference. Projection mapping makes a bold statement and leaves a positive aura in the air.
And, of course, it's also great for entertainment and sporting events. Keeping fans entertained during breaks in the action—whether during the pregame hype or as projection mapped fireworks, —will make for an overall better experience for event attendees.
If you're interested in what 3D projection mapping can do for you or your business, contact Chicago Projection Mapping by e. mail at Info(at)ChicagoProjectionMapping(dot)com.
About Chicago Projection Mapping: Based in Chicago, IL, Chicago Projection Mapping is a full service content creation and 3D projection mapping company, serving the corporate, entertainment, event, meeting, and convention sectors. For more information, please visit http://www.ChicagoProjectionMapping.com, or call 630-620-0000.
CPM Services:
3D and 4D Projection Mapping Design
Temporary and Permanent Installation
Consultation on All Aspects of Mapping Process
Show Design and Integration
In-House 2D and 3D Animation Team
Custom Interactive Design Capabilities
Custom Media Servers for flawless operation
Experience with all standard mapping hardware and software
Partnerships with regional and national hardware vendors
On-Site Setup, Mapping, and Event Operation
Remote access and operation for permanent installation
and much more
Contact CPM at 630.620.0000