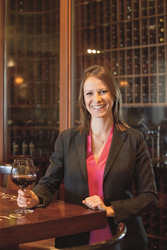 Half Moon Bay, California (PRWEB) February 08, 2015
Navio's first Vintner Dinner of 2015 "Celebrating Women in Wine" will be presented on Sunday, March 8 in Navio at The Ritz-Carlton, Half Moon Bay.
Celebrating Women in Wine will be hosted by four outstanding women in the wine industry including The Ritz-Carlton, Half Moon Bay's Advanced Sommelier Petra Polakovicova, Viticulturist Ann Kraemer from Yorba Shake Ridge Ranch & Vineyards, Winemaker Celia Welch of Corra Wines, and Owner and Winemaker Morgan Clendenen for Cold Heaven Cellars. Throughout the evening, the ladies will share their stories and experiences and discuss tasting notes for each of the wines.
Working closely with Petra and the Vintners, Chef de Cuisine Kevin Tanaka will depart from traditional wine dinner cuisine and will showcase six distinctive courses that will pair with nine exclusive hand-crafted wines. Chef Kevin drew inspiration for the menu from Navio's Ocean Cuisine and created dishes that highlight the key notes of the wines in very unique ways. His culinary risk taking will further accent the wine pairings, which are nontraditional and will challenge guest's preconceived notions.
Celebrating Women in Wine will begin with a reception at 5:45 p.m., followed by dinner at 6:30 p.m. The dinner is $250 per person, inclusive of tax and gratuity. The full menu and wine pairings can be found online at http://www.ritzcarlton.com/hmb. Reservations are required and seating is limited. Please call 650-712-7000 to make a reservation.
Advanced Sommelier Petra Polakovicova, The Ritz-Carlton, Half Moon Bay
In September 2014, Petra passed the Court of Master Sommeliers' Advanced Sommelier Exam and is now one of only 325 Advanced Sommeliers in the United States. She is responsible for crafting the wine and beverage programs for the oceanfront resort including the signature restaurant Navio, the wine tasting room ENO, The Conservatory, and The Ocean Terrace. A native of the Slovak Republic, her passion for food and wine was cultivated by her parents who she says taught her appropriate dining etiquette, how to properly set a table, and how to be the best hostess to your guests.
Viticulturist Ann Kraemer, Yorba Shake Ridge Ranch & Vineyards
Ann is also lucky to have a seasoned vineyard manager in the family. A respected viticulturist, Kraemer developed Shake Ridge Vineyard relying on her 25 years of experience in the premium wine industry. After earning her stripes managing vineyards for Domaine Chandon and Swanson, she eventually moved into consulting with wineries and vineyards, including Cain, Calera, Hobbs and Shafer. Though she thrived in the industry, Ann longed for a chance to farm again. Shake Ridge Vineyards is proving a worthy, and demanding, subject for her passion. By custom-farming small vineyard blocks, Ann is able to provide Yorba and the other Shake Ridge winemakers the highest quality fruit. As Kraemer says, "It's all in the details."
Winemaker Celia Welch, Corra Wines, and Owner
Celia's first interaction with grapes was under the huge oak tree in her backyard in Southern Oregon, where her siblings and she plucked grape berries from stems for their father, an avid wine collector and home winemaker. In 1982 with a degree in Enology earned at UC Davis, she set out to take a peek at a few wine regions. Her travels took her to the Pacific Northwest, the East Coast, and to New Zealand. She worked harvest in the Barossa Valley of Australia, and then settled in the Napa Valley to refine her craft. Celia had reached a fork in her career path in the early nineties, and she chose to focus on independent wine consulting. The wines she has made create a microcosm of Napa Valley. She has made wine from vineyards on Mt. Veeder, Atlas Peak, and Howell Mountain to those in Carneros, and from benchland vineyards from St. Helena to Napa. In 2004 came the idea and the challenge of founding Corra. It was not easy to find vineyard sources with top-quality fruit, a winery with a bit of space to spare for barrels, and a strong team of individuals with experience in different aspects of the wine business from grapevines to websites. The results of these efforts have been tremendous; well-received wines and a project that has led to information- and idea-sharing for everyone involved.
Winemaker Morgan Clendenen, Cold Heaven Cellars
Morgan says that her mission and goal as a winemaker is to illuminate and define Viognier, elevate its profile, and explore its potential through keen observation and copious tasting. She seeks to sound the depths of this enigmatic grape, to reveal its secrets, and to shine a bright light on the extraordinary fruit grown in the cool vineyards of the Santa Maria and Santa Ynez Valleys of California's Central Coast. Morgan started in the wine industry working for an Italian wine importer in her native North Carolina. Then she moved on to a boutique wine importer to optimize her learning curve. A move to a sales and marketing position at Robert Sinskey Vineyards, in Napa, led to her meeting Jim Clendenen, winemaker and owner at Au Bon Climat. They married, and she moved to Santa Barbara County. When Au Bon Climat, by chance, was offered a lot of Viognier grapes, Cold Heaven Cellars was born. Morgan knew little about Viognier at the time and had only some practical knowledge of winemaking and no formal training. She learned winemaking "on the job" and also says that she had some amazing tutors, including her spouse.
# # #
About The Ritz-Carlton, Half Moon Bay
Situated 23 miles southwest of the San Francisco International Airport, The Ritz-Carlton, Half Moon Bay is a 261-room destination spa and golf coastal hotel and the San Francisco Bay Area's only oceanfront resort. Set atop a rugged bluff overlooking 50 miles of pristine California coastline, the timeless oceanfront estate provides guests with a relaxed yet refined experience, whether for a romantic getaway, meeting or special event. For more information, please contact The Ritz-Carlton, Half Moon Bay at 650-712-7000. For room reservations, contact your travel professional, visit http://www.ritzcarlton.com/HMB or call Ritz-Carlton worldwide reservations at 800-241-3333.