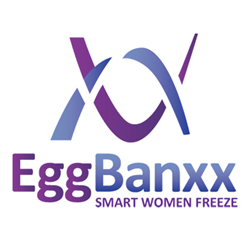 Los Angeles, CA (PRWEB) February 09, 2015
EggBanxx is a national network of over 165 top fertility doctors specializing in egg freezing. Oocyte preservation, or Egg Freezing as it is commonly referred to, is an elective procedure for women interested in preserving their fertility. EggBanxx will be shining a light on women's reproductive health by hosting an event geared towards raising awareness of egg freezing on Tuesday, February 17th at 6:00pm at the Beverly Wilshire Hotel, 9500 Wilshire Boulevard, Beverly Hills.
Hosted by former KCBS News Anchor and Chief Medical Correspondent of EggBanxx, Suzanne Rico, the event will feature a panel discussion with three fertility doctors from the LA area, a Q&A session, as well as opportunities for individual consultations and discussions. The event is open to the public, but seating is limited. To RSVP, please go to http://www.eggbanxx.com/la
With EggBanxx, patients can choose from a select group of nationally recognized egg freezing doctors practicing in the Los Angeles area who use only the newest technology, vitrification, to freeze eggs. Pregnancy results from vitrified, frozen eggs have shown comparable success rates to fresh eggs, thereby catapulting interest in egg freezing. In 2014, there were nearly 15,000 egg freezing cycles done in the US, and the market is expected to grow by 50% this year and quadruple in the next four years.
"At EggBanxx, we hear dozens of stories from women who want biological children but they're either not ready or aren't in a relationship. By freezing their eggs now, they're locking in younger eggs to use if they find themselves in a situation later where they have trouble conceiving or maintaining a healthy pregnancy. That's the situation for 1 in 3 women age 35 or older," says Jay Palumbo, Vice President of Patient Care at EggBanxx. Similar to traditional IVF, success rates for egg freezing decline with maternal age, so it's recommended for women to freeze their eggs in their late 20s through mid 30s. Palumbo added, "EggBanxx is proud to host an event that talks about female fertility, tests to request from your doctor, and how egg freezing can provide options. It's not as intimidating as you may think and you'll leave our LA event feeling more confident than ever before about your reproductive choices!"
To RSVP for EggBanxx Los Angeles visit http://www.eggbanxx.com/la
To Learn more about EggBanxx call: 855-552-2699
To Find a Fertility Doctor in the LA area call: 855-955-2229
About FertilityAuthority
EggBanxx.com, owned by FertilityAuthority, is part of a family of websites providing comprehensive, interactive resources and referrals for women and men seeking quality fertility information, as well as tools to simplify the search for trusted fertility doctors or fertility clinics. With more than one million monthly visits, the websites FertilityAuthority.com, FertileThoughts.com, IVFAdvantage.com, EggFreezingCosts.com, EggBanxx.com, GenderSelectionAuthority.com— along with a staff of patient care coordinators — assist in making the important connection between patients and the physicians who can assist them in their family-building efforts.
# # #
***To schedule an interview with a network doctor, EggBanxx CEO Gina Bartasi, and/or a patient either before or during the event, or to register to attend, please use this link http://www.eggbanxx.com/la or contact:
Media Contact-Los Angeles
Scott Barton
scott(AT)scottbartonmedia.com
310 339 8226
Media Contact-New York
Robin McCarthy, Senior Vice President, Marketing
robin@eggbanxx.com
646 350 0748