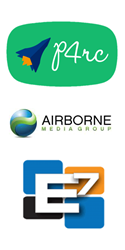 An exponentially more powerful user engagement experience that attracts and retains customers like never before.
Los Angeles, CA (PRWEB) February 11, 2015
P4RC, E7 Systems and Airborne Media Group announced today that they have formed a strategic alliance to build the next-generation Winner Planet™ product suite. Winner Planet™, a strategic and technical alliance between Airborne Media Group -- the creators of Audioair®, the Sky Ute Casino and the Southern Ute Tribe -- is a breakthrough mobile commerce and social networking technology, developed specifically for the casino gaming market.
As part of this new strategic alliance, E7 Systems will develop next-generation applications for both the AudioAir Interactive Broadcast Network and the new Winner Planet™ platform. P4RC, Inc., which operates the leading SaaS platform to incite loyalty in mobile apps and games, will then bring its patented private label loyalty and rewards program to both of these new applications. Additionally, P4RC will bring new P4RC loyalty-enabled mobile and social casino gaming applications to Winner Planet™, with rewards redeemable at Sky Ute Casino as well as at other casino locations following a strategic product rollout to other gaming operations including Indian casinos, card rooms, off track betting and Las Vegas style casinos.
"Enabled with the patented Audioair technology, Winner Planet will not only connect player owned mobile devices with digital displays within the gaming enterprises on an interactive basis, it ultimately will create a platform that will connect mobile devices with one another and with the gaming premises socially in all new ways. Having E-7 Systems and P4RC as strategic partners, we will be bring to bear incredible talent and experience to create a sweeping social and mobile experience. In turn that experience will provide gaming enterprises the first truly new means to engage with their players in decades," said Cordell Brown, Airborne Media Group's CEO.
"The confluence of the three aforementioned technologies will create an exponentially more powerful user engagement experience that attracts and retains customers like never before. An additional and material benefit will be the generation of actionable analytics that allows our customers to rapidly make more informed decisions," said Michael Rubinelli, P4RC's CEO.
"Winner Planet will take casino-player relationships where no app has gone before. Audioair's media network combined with P4RC's engagement tools are enabling E7 to go beyond the traditional casino loyalty app. Winner Planet will be an immersive experience that captures the attention of members with uniquely engaging content and games delivered through multiple interactive mediums. Winner Planet empowers casino staff to communicate with every player like they are customer number 1. Winner Planet helps players to tailor their marketing experience to the most personally meaningful news and promotions. On Winner Planet, players will connect with their passions for gaming, while building strongly loyal relationships with their favorite Casinos," said Bill Smith, E7 Systems Managing Director.
About P4RC, Inc.
P4RC (pronounced park) is a patented SaaS platform that incites loyalty in mobile apps and games. P4RC's platform is live in more than 400 apps and has been proven to significantly increase user engagement, retention, cross-promotion and monetization. To learn more about P4RC, please visit http://www.p4rc.com. Follow P4RC on Twitter (@p4rcinc) or Facebook (facebook.com/p4rcinc).
About E7 Systems
E7 Systems develops transactional, web and mobile software primarily for the gaming and entertainment industries. E7 Systems' software powers financial systems, social networks, mobile games, and more. To learn more about E7 Systems, please visit http://e7systems.com.
About Airborne Media Group, Inc. and Audioair
Airborne Media Group, Inc. launched in Durango, Colorado, in late 2010 with a simple yet powerful idea that a Smartphone could be used to selectively listen to television displays that required their audio output be muted for practical noise considerations. The idea expanded to include other interactive activity between the mobile device and the socially shared screens. The Company has been running pilot locations in a number of commercial venues around the country and has recently gone to market with its commercial product and service suite based on its patented technology. For more information on Airborne Media Group and Audioair, visit audioair.com, audioair.net, http://www.airbornemediagroup.com and follow us on Twitter (@audioairnation).