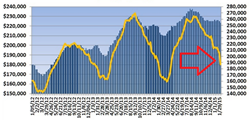 uyers, especially first-time home buyers are not seeing the bargain winter price declines that they hoped for
Chicago, IL (PRWEB) February 07, 2015
Lenders like Peoples Home Equity were greatly disappointed to see the results of this weeks "National Home Sales Snapshot" from DQnews.com
As reported on Thursday, February 5th, weekly median home sales fell a whopping -8.4% down to 187,271. This was a largest weekly decrease for 2015. Sales are now down -12.7% from the start of the year when they were reported at 214,675.
Peoples Home Equity was most disappointed regarding year-over-year home sales. Four weeks ago on January 15th, weekly median home sales were 4% higher than a year ago. Sales have now contracted to 2.7% versus a year ago. Peoples Home Equity was expecting this winter to show consistent gains over last year in terms of home sales. This is still possible, especially given the huge increase of home applications for the week ending on January 9th as reported by the Mortgage Bankers Association.
Unfortunately, while median home sales have collapsed over the past 7 days, median home sale prices declined only -0.9% to 223,000 from 226,350 the week prior. Buyers, especially first-time home buyers are not seeing the bargain winter price declines that they hoped for due to a nationally low housing supply. Currently, there is much higher demand for housing than there is supply. This market environment is pushing home prices higher and keeping them from falling much even in the winter when sales fall dramatically.
Peoples Home Equity reminds prospective buyers that home prices are still selling at a discount compared to pre-recession levels. The S&P/Case Shiller National Home Price Index was recorded at 167.1 for October 2014 which was still -10.4% below the highest index level of 184.62 in July 2006. This national index includes strong markets like San Francisco, Denver, and Dallas which have already moved on to post recession all time highs. Other cities in the index like Detroit, Chicago, and Phoenix are trending at a steeper discount than -10.4% ( the Las Vegas index in October 2014 was trending at -41% from its high in September 2006). In addition, to searching for a property in bargain priced cities like Las Vegas, 30-year fixed mortgage rates are trending at a very low sub 4% level. Every situation has opportunity. Currently home prices are strong, but sales and interest rates are low. Now is the time to get approved for an affordable home loan and search for a property to purchase before home prices and activity rise considerably in the spring.
If in need of a home loan, consider speaking to a People Home Equity loan officer today at: http://peopleshomeequity.com