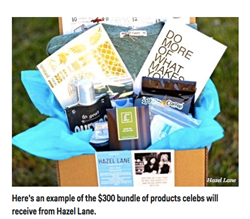 "Hazel Lane are different, filled with offbeat, "best of" goods that tell the story of some of America's most interesting cities"— Andy Bender- Forbes Magazine
Los Angeles, CA (PRWEB) February 08, 2015
Hazel Lane, the monthly destination subscription box that delivers a new city via local goods is headed to the 57th Annual GRAMMY Awards®! This scrappy, female-founded start-up launched from San Francisco in 2014 and has grown from a passion project to one of Forbes Magazine's Top 10 Gifts of 2014 and a Must-Have subscription by Conde Nast Traveler and now one of the GRAMMY Awards® 2015 Gift bag.
Committed to sourcing from locally made, sustainable, organic and boutique quality products, this box is a curated collection of some of their favorite California partners. The Beach and Bae California Crawl Box valued at $300 will be given to every presenter and nominee as part of the overall GRAMMY® swag bags.
PRODUCT INCLUSIONS
Bae (Bay Area): Girl and The Fig Jam, Philz Coffee, Poco Dolce Chocolate, Fellow Barber Haircare, Tote+Able Flasks, *plastique Jewelry, Scents of SF candles, Brittany Garner Gold Foil Print, Wendy MacNaughton Wine Art and Marine Layer T-Shirts!
Beach (LA): Emily McDowell stationary, Gold Ink, ThirdLove and more!
Purchase the award show gift box, individual items and previously featured city boxes and order subscriptions on their website.
COMPANY INFORMATION
Founded in San Francisco in 2014 by Samantha Strom and Ashley Dekellis as a Benefit Corporation that curates a collection of locally made goods that represent the spirit of a new city every month. As a Benefit Corporation, Hazel Lane—named for Strom's cat and DeKellis's son—has made a commitment to sustainable and organic products part of their bottom line. Founded by Samantha Strom and Ashley Dekellis, the company remains committed to sustainable, organic and functional [long-lasting] goods and donates a portion of profits to local charities. Product categories range from clothing + accessories to home goods + food from award winning restaurants. The team is still comprised solely of the two founding members who run the company from offices in Chico and Venice California. Photos available here: http://bit.ly/1DPqu9v.
###
Contact
Samantha Strom Hazel Lane CEO Co-founder
sam(at)hazelane(dot)com
http://www.hazellane.com
@Hazel_Ln