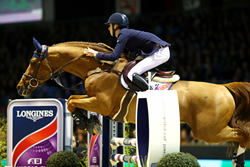 I've always known that Romanov is a great horse, and he was just brilliant tonight!
(PRWEB UK) 8 February 2015
Irish Jumping sensation, Bertram Allen, made it a double of Western European League wins when scorching to victory in the thrilling penultimate leg of the Longines FEI World Cup™ Jumping 2014/2015 series at Bordeaux, France tonight.
And his result was all the more phenomenal for the fact that the 19-year-old rider was partnering Billy Twomey's stallion Romanov who, at 17, was the oldest horse in the class and just two years younger than the man in the saddle.
There was plenty of tension in the air, as many riders were desperately bidding for those elusive extra qualifying points that will get them to the Longines Final in Las Vegas, USA, in two months' time. But Allen was already well-assured of his ticket following a spectacular indoor season, and tonight, the young man who recently moved up to 14th in the Longines world rankings stands on top of the Western European League leaderboard.
Underpinning his extraordinary achievement, he left German superstars Ludger Beerbaum (Chaman) and Marcus Ehning (Singular Ls La Silla) in his wake, while Timothee Anciaume (Olympique Libellule) slotted into fourth for France.
Asked afterwards if he was surprised to have beaten such a world-class field, Allen replied, "No, not really. I've always known that Romanov is a great horse, and he was just brilliant tonight!"
Up to the task
Course designer, Italy's Uliano Vezzani, gave them a generous 78 seconds to complete the first course of fences, and 11 of the 40 starters proved up to the task. The triple combination at fence 10 took the biggest toll, but there were also plenty of mistakes at the vertical at eight and the oxer at fence nine, which each had a water-tray below them.
The clever jump-off track took horses on a figure-of-eight before looping back to the last element of the former triple combination, which was followed by the 1.60m vertical at fence 11 and a long gallop to the final oxer. It seemed Germany's Beerbaum had it in the bag when the 51-year-old ace, who enjoyed very little luck in earlier legs this season, produced the smoothest of runs from the 16-year-old Chaman to set a strong target in 37.72 seconds when fourth to go.
That left him almost five seconds ahead of the only other clear round produced by the host nation's Timothee Anciaume and Olympique Libellule after Australia's Edwina Tops-Alexander kicked out the last with Lintea Tequila and Italy's Luca Moneta and Connery lowered the third.
Despite a breath-taking turn inside fence 11, Marcus Ehning and Singular la Silla still couldn't better Beerbaum's target time when clear in 38.44. And when Zurich winners Sergio Alvarez Moya and Carlo from Spain left two on the floor, and Ireland's Denis Lynch (All Star), and Kevin Staut (Reveur de Hurtebise) and Penelope Leprevost (Flora de Mariposa) from France all collected single errors, Beerbaum was still out in front.
Formidable reputation
However, although still so very young, Allen has already earned a formidable reputation for skilled riding against the clock. With his top horse, the grey mare Molly Malone, with which he clinched victory at the Longines leg in Verona, Italy, last November, he is always to be feared. But he had no doubt that Romanov could do the job equally well this evening. Setting off at a relentless pace, he was well in touch as he cleared the penultimate vertical and the crowd held their collective breath as he urged his veteran campaigner to a big stand-off at the final oxer, stopping the clock in 36.48 seconds to go well out in front. And when the final partnership of The Netherlands' Maikel van der Vleuten and VDL Group Verdi made a mistake, it was the Irishman's moment.
"I knew I was in with a chance and I just kind of set sail down the last. He's a brave horse with a lot of experience," Allen said afterwards. He said Romanov "had a win in Zurich (two weeks ago), but it wasn't a big class. He had a break after Birmingham (GBR), where he won the Showjumper of the Year last October, and we've been building him up especially for today."
Quick to praise
Runner-up, Ludger Beerbaum, was quick to praise the winner. "To be honest, the competition in the jump-off wasn't really close – he (Allen) was more than a second faster, fantastic work from him. He is very fast and so is the horse. I don't think I could have beaten him today for speed."
And he added, "looking at Bertram today, I remember how old I am! The first time I competed in Bordeaux was in 1987, Bertram wasn't even born then! I was 23 years old at the time and won the Grand Prix. Since then, I haven't won the World Cup here, so I guess I need to come back again next year then!"