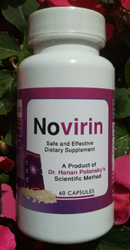 Many individuals have no clue how unlikely being bitten by a spider actually is. They also don't know the difference between spider bites and other skin conditions caused by viruses. - Greg Bennett, CBCD
Rochester, NY (PRWEB) February 10, 2015
"Infected with the herpes virus (HSV-1, or HSV-2)? The CBCD, which conducted two separate post-marketing clinical studies on the natural, antiviral formula of Novirin, recommends taking this effective herpes remedy to help the immune system target the latent HSV." - Greg Bennett, CBCD
In the Spider-Man movies Peter Parker turns into Spider-Man after being bitten by a spider. The image of spider bites was burned into the imagination of millions. However many individuals have no clue how unlikely being bitten by a spider actually is. They also don't know the difference between spider bites and other skin conditions caused by viruses. In fact, many people confuse the symptoms of an infection with the genital herpes virus (HSV-2) with a spider bite.
"Often people infected will think their blisters are from a spider bite or allergic reaction to a latex condom. It is only when the 'bite' or 'allergy' keeps reappearing that the person seeks medical care." (See Reveal4Real.org) (2) Additionally, authors of a study reported that "when examining reports of thousands of spider bites of many species worldwide, we found almost no mention of infection associated with the arachnid-inflicted injury." (1) Individuals can easily tell the difference between a spider bite and a herpes blister. Of all spider species in the world, "fewer than 0.5% are able to bite through human skin and, of these, only a handful are considered dangerous." (See Patient.co.uk, from August 19, 2011) (3)
Moreover, spider bites do not create fluid filled blisters that crust over, and they do not last long. In fact, according to WebMD, "these mild reactions are common and may last from a few hours to a few days." (See WebMD, last updated February 06, 2014) (4) In contrast, genital herpes "may include flu-like symptoms that include fever, swollen glands, body aches, tiredness or Sores or blisters that last 7 -10 days or more. These sores/blisters may occur anywhere on the lower abdomen, buttocks or genitals. There may be only one or multiple blisters, which will break open and become an open sore and then will scab over and heal." (2) For herpes infected individuals, the CBCD recommends taking Novirin.
"The CBCD also recommends that Peter Parker take Novirin. We're joking, of course!" – Greg Bennett, CBCD
Click to learn more about genital herpes symptoms.
The formula of Novirin was tested by Hanan Polansky and Edan Itzkovitz from the CBCD. The studies showed that the Novirin formula is effective against the family of herpes viruses, including HSV-1 and HSV-2. The clinical studies were published in the peer reviewed, medical journal Pharmacology & Pharmacy, the first, in a special edition on Advances in Antiviral Drugs. Study authors wrote that, "individuals infected with (HSV-1 or HSV-2)…reported a safe decrease in their symptoms following treatment…." (5) The study authors also wrote that, "We observed a statistically significant decrease in the severity, duration, and frequency of symptoms." (5)
Novirin can be ordered on the product website here: http://www.novirin.com
Novirin is a natural antiviral dietary supplement. Its formula contains five natural ingredients: Selenium, Camellia Sinensis Extract, Quercetin, Cinnamomum Extract, and Licorice Extract. The first ingredient is a trace element, and the other four are plant extracts. Each ingredient and its dose was chosen through a scientific approach. Scientists at polyDNA, the company that invented and patented the formula, scanned thousands of scientific and medical papers published in various medical and scientific journals, and identified the safest and most effective natural ingredients against latent viruses. To date, Novirin is the only natural antiviral product on the market with published clinical studies on its formula that supports its claims.
The CBCD suggests that individuals who develop sores in the "boxer shorts" area of the body, which last longer than one week, see a doctor. It is unlikely that painful, fluid filled blisters that last longer than this time period are spider bites. In fact, spider bites often carry with them other symptoms, which do not match those of herpes at all. For example, some people will experience severe reactions with spider bites, such as "coughing, wheezing, trouble breathing, or feeling of fullness in the mouth or throat."
How can a person recognize genital herpes symptoms?
"Most people who have herpes have no, or very mild symptoms. You may not notice mild symptoms or you may mistake them for another skin condition, such as a pimple or ingrown hair. Because of this, most people who have herpes do not know it. Genital herpes sores usually appear as one or more blisters on or around the genitals, rectum or mouth. The blisters break and leave painful sores that may take weeks to heal. These symptoms are sometimes called "having an outbreak." The first time someone has an outbreak they may also have flu-like symptoms such as fever, body aches, or swollen glands. Repeat outbreaks of genital herpes are common, especially during the first year after infection." (See the CDC, last reviewed: January 23, 2014) (6)
What treatments are currently available for herpes infections?
"Two types of antiviral treatments against HSV are available: topical and oral. The treatments include penciclovir, acyclovir, famciclovir, and valaciclovir. However, their effectiveness is limited. For instance, a meta-analysis of five placebo-controlled and two dose comparison studies evaluated the effect of aciclovir, famciclovir or valaciclovir on symptoms. The meta-analysis showed that oral antiviral therapy decreases the duration and the associated pain of an outbreak by merely one day." (5). There is also the natural supplement Novirin, which has a formula that was designed to help the immune system target the herpes virus when it is in a latent form.
"We recommend that individuals who are concerned about a potential spider bite, see a doctor. If the 'spider bite' becomes fluid filled and crusts over in a few days, that person may have herpes, and again should see a doctor. For those individuals that want to help maintain the health of their immune system and its ability to target the latent virus, we recommend taking Novirin." – Greg Bennett, CBCD
Interested individuals can view the studies published on the antiviral formula of Novirin here: http://www.scirp.org/journal/PaperInformation.aspx?PaperID=36101#.VNc8leaUf90 and http://www.scirp.org/journal/PaperInformation.aspx?PaperID=44234
All orders of Novirin are completely confidential, and no information is shared or sold to any third party. Privacy is assured.
References:
(1) Preidt, R. "You're Unlikely to Get a Skin Infection From a Spider's Bite, Review Finds." Medline Plus - Published Friday, January 9, 2015.
http://www.nlm.nih.gov/medlineplus/news/fullstory_150345.html
(2) Reveal4Real - Genital Herpes (HSV).
http://reveal4real.org/STDs/Herpes.html
(3) Patient.co.uk - Spider Bites - Last Reviewed August 19, 2011.
http://www.patient.co.uk/doctor/Spider-Bites.htm
(4) WebMD.com "Insect Bites and Stings and Spider Bites - Topic Overview." Last Updated: February 06, 2014.
http://www.webmd.com/first-aid/tc/insect-bites-and-stings-and-spider-bites-topic-overview
(5) Polansky, H. Itzkovitz, E. Gene-Eden-VIR Is Antiviral: Results of a Post Marketing Clinical Study. Published in September 2013.
scirp.org/journal/PaperInformation.aspx?PaperID=36101
(6) CDC.gov - Genital Herpes - CDC Fact Sheet. Page last reviewed: January 23, 2014.
http://www.cdc.gov/std/herpes/stdfact-herpes.htm