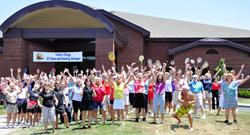 2015 Bliss Award winner for Best Community Spirit of the Year
Knoxville, Tennessee (PRWEB) February 09, 2015
When almost 1,000 property owners take the time to share their individual thoughts publicly, it's hard not to notice. Tellico Village, last year's Happiest Community of the Year continues to inspire Real Estate Scorecard with the joy they experience every day and thriving community spirit. It's a community where kindness is contagious. The Villagers, as they're called, are a large group of people who continuously work together to help improve the community they live in and their outreach stretches far beyond their neighborhoods. To Real Estate Scorecard, their actions mirror Wikipedia's definition.
The Villagers have started dozens of non-profit organizations and/or have spearheaded compassionate causes in Eastern Tennessee. One property owner states "the pride expressed and shown by the community and residents is excellent…The act of giving and participating in every charity within the surrounding areas is the best I have ever witnessed."
Villagers relocating to Tennessee come from all walks of life and places. "The vast majority are well educated, intelligent people" says a Villager. What property owners at the village don't find is stuffiness, judgmental attitudes or pretentiousness. Instead, property owners immediately feel a sense of belonging, the intentional purpose of the New Villagers Club. Real Estate Scorecard attended one of the monthly events and have observed the 'warm embrace' in action. A villager shares "virtually all functions of the entire community are run by resident volunteers who by nature have the best interest of Tellico Village in mind."
Set on one of the most beautiful boating lakes in Tennessee, Tellico Village borders Tellico Lake in the foothills of the Great Smoky Mountains. Development began back in the mid 1980's. The best master planned communities with 3,800 homes has an extensive amenity list and residents pay for the amenities a-la-carte. They are not forced to pay for things they do not use. POA fees are dirt cheap at around $112 a month. With no state income tax and a low cost of living, naturally, the community has attracted its fair share of retirees relocating to Tennessee. Located in the suburbs of west Knoxville, it's not unreasonable to commute to the city. In fact, property owners who have more time on their hands can navigate from Tellico Village to downtown Knoxville by boat.
Amenities at the village include three 18 hole championship golf courses, four clubhouses, a wellness center, indoor and outdoor swimming pools, 10 tennis courts, 8 pickleball courts, a marina, community parks, and more. The comments Real Estate Scorecard reads from property owners are even funny. One property owner tells us "our children say we are never home, duh, we are having a great time."
Tellico Village continues to be a benchmark in best master planned communities. Real Estate Scorecard salutes all of their achievements and bestow a 2015 Bliss Award for Best Community Spirit of the Year. The best way to feel the 'spirit' if folks don't already live there is to access their Discovery Package.
Contact Tellico Village at 888.287.0676 to schedule a visit.
About Real Estate Scorecard:
Real Estate Scorecard writes unbiased real estate reviews providing in-depth information about popular master planned communities in Florida, Georgia, the Carolinas, Tennessee and Central America, all in an effort to help people discover where to retire in the South.
Website: http://realestatescorecard.com