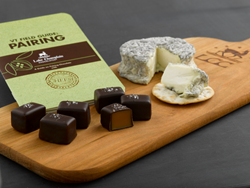 Rich, bold, robust, nutty, creamy-- cheese and chocolate are an unexpectedly flavorful pairing.
Websterville, Vermont (PRWEB) February 09, 2015
In love, as in dessert, a perfect pair brings out the best qualities of its other, creating something new and unique that is more than the sum of its parts. We've long known that opposites attract, and nowhere is this more evident than in the sweet and savory relationship between cheese and chocolate.
Rich, bold, robust, nutty, creamy—chocolate and cheese share many of the same descriptions, and are an unexpectedly flavorful pairing. In celebration of Valentine's Day, here are ten tips for pairing cheese and chocolate:
1. Soft, ripened cheese pairs well with dark chocolate, especially those spiced with cinnamon, cayenne or anise for a more complex flavor profile. Try Spicy Aztec Organic Dark Chocolate from Lake Champlain Chocolates with an aged goat cheese from Vermont Creamery, such as Bijou or Bonne Bouche.
2. Both cheese and chocolate can have stronger or milder flavor profiles. Adjust your portions so that neither overwhelms the other.
3. Aged cheese, such as good cheddar, has a nutty flavor and firm texture that pairs well with chocolates filled with almonds, honey and maple. Try Shelburne Farms cheddar aged at least 12 months with Lake Champlain Chocolates Dark Chocolate with Almonds.
4. A strong blue cheese, with its sharp and pungent flavor, will enhance the undertone of a strong, semisweet dark chocolate. Try Jasper Hill Farm Bayley Hazen Blue with a simple dark chocolate.
5. Contrast textures in the cheese and chocolate. For example, try a soft, creamy ripened cheese with a simple dark chocolate square, or a hard, crumbly cheese drizzled with chocolate ganache.
6. Pairing cheese and chocolate in baked goods is always a win. Think cheesecake drizzled with chocolate, or these Valentine's Day appropriate Chocolate and Goat Cheese Cupcakes from Buttercream Blondie.
7. Lively and tart, fresh goat cheese pairs beautifully with the dense, rich sweetness of chocolate truffles. Try fresh or creamy Vermont Creamery chèvre with milk or dark chocolate truffles.
8. Consider the primary taste of the chocolate. The four basic tastes are sweet, sour, salt, and bitter. Think about how these tastes will interact with the cheese, and how certain flavors might be enhanced or complemented.
9. Try both complementary and contrasting flavors. Sometimes, opposites attract to create a beautiful, full flavor profile. Other times, if the flavors are similar, they enhance what you already tasted. You really can't go wrong. After all, we're talking cheese and chocolate here!
10. Cheese & Chocolate S'mores! If you're feeling adventurous, try these outrageously good Bonne Bouche and Dark Chocolate S'more with Herb Walnut Crackers from French Foodie Baby. Or substitute sharp cheddar and graham crackers for a (slightly) more traditional approach.
Vermont Creamery & Lake Champlain Chocolates: A Love Story
Kindred spirits here in Vermont, both Lake Champlain Chocolates and Vermont Creamery have been crafting their products in the Green Mountains for 30 years. Inspired by an internship on a farm in Brittany, France in the 1980s, Vermont Creamery co-owner Allison Hooper returned to the U.S. determined to introduce fresh and aged goat cheese to the American market. At the same time, Lake Champlain Chocolates owner Jim Lampman had set about to make a local chocolate that "rivaled the Belgians." Borrowing both flavor and technique from their European counterparts, Jim and Allison each combined the unique taste of Vermont's terroir with their respective passion for cheese and chocolate, eventually coming together when Lake Champlain began using Vermont Creamery cultured butter in its chocolate. You could say they are the perfect pair. For more information, please visit their websites at http://www.vermontcreamery.com or http://www.lakechamplainchocolates.com.