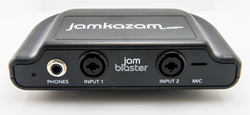 When my band played together using JamBlasters from all over the country, it was surreal, pretty mind blowing. But at the same time, it felt really natural and was a lot of fun," said Dave Sebree, Gibson endorsed pro guitarist and recording studio owner.
Austin, TEXAS (PRWEB) February 09, 2015
JamKazam, the developer of a live music platform and social network for musicians, today announced the launch of its new JamBlaster product that radically reduces audio processing latency compared to today's industry standard computers and audio interfaces, enabling musicians to play real time sessions from different locations over far greater distances. JamKazam is launching the JamBlaster on Kickstarter today, and musicians may visit the JamBlaster page on Kickstarter for more information.
"When my band played together using the JamBlaster from all over the country, it was surreal, pretty mind blowing. But at the same time, it felt really natural and was a lot of fun," said Dave Sebree after his band played a session using JamBlasters with band members scattered across Austin TX, Atlanta GA, Chicago IL, and Brooklyn NY. "I've toured with bands for decades and own a studio, and I see a lot of applications for the JamBlaster as a musician. I also founded the Austin School of Music, where we have 50 instructors teaching 2,000 students each week, and I see tremendous opportunities for online music lessons using JamKazam. These guys have built something amazing."
To see and hear the JamBlaster in action, and to get a quick overview of the product, watch this JamBlaster video. To watch a band playing together using the JamBlaster from Austin TX, Atlanta GA, Chicago IL, and Brooklyn NY, watch this video of the band Big Cat.
WHY THE JAMBLASTER IS UNIQUE & VALUABLE
The JamBlaster was designed from the ground up to meet the requirements of distributed real-time music performance, and delivers the following unique combination of features and benefits to musicians:

Amazingly Fast Audio Processing
Thousands of musicians use the free JamKazam Internet service today to play in online, real-time sessions, giving JamKazam unparalleled visibility into the performance of industry-standard audio interfaces when paired with Mac and Windows computers. About 85% of the gear in use by musicians today requires between 10 and 20 milliseconds just to process audio. This is often as much as, or even more than, the time required to transmit audio over the Internet between musicians in a session. In contrast, the JamBlaster requires just 2.8 milliseconds to process audio, faster than any combination of the thousands of interfaces and computers in use on JamKazam. The value of this speed is that each 1 millisecond saved in audio processing time can be worth up to about 100 miles of additional range on the Internet backbone, enabling sessions over far greater distances, and making sessions over shorter ranges much tighter.
In addition to reducing the time required to process audio, the JamBlaster also reduces the variability in the timing of audio input and output through the use of numerous optimizations, including the use of a real-time operating system kernel in the JamBlaster. This reduces the depth of the jitter queue required to maintain audio quality, and thus further reduces latency in online sessions, typically by an additional 2 to 5 milliseconds.
The JamBlaster uses premium audio components throughout to deliver superb audio quality on par with audio interfaces from leading vendors of these products. The JamBlaster delivers up to 24-bit, 96kHz premium audio. Frequency response for mic/line/instrument inputs is 20Hz – 20kHz +/-0.2dB. THD+N is -107dB for mic inputs and <-100 dB for line and instrument inputs.
The JamBlaster seamlessly combines a quad-core ARM processor with a high-performance audio subsystem, and takes the place of both the computer and the audio interface for playing in sessions. Musicians can control the JamBlaster using a companion app that runs on an iOS or Android smartphone or tablet, or in a browser on a computer.
Plug and Play Ease of Use
Musicians are painfully aware of how hard it is to deal with software and hardware incompatibilities, driver issues, and various performance problems commonly encountered when using computers with recording hardware and software. In contrast, the JamBlaster is a plug-and-play appliance that just works. Connect it to your home router for Internet access. Plug your instrument cables and/or microphones into the ports on the front of the box. Plug a pair of headphones into the phones jack, and you're ready to play.
Works With Popular Recording Software
Musicians can record session performances when playing together on JamKazam using the JamBlaster. In addition, the JamBlaster will also work with musicians' favorite recording software applications that run on Mac and Windows computers, like GarageBand, ProTools, Reaper, and so on.
The JamBlaster is quite small, light, and portable, so it's very easy to move it around or carry it along as needed.
"Today's audio interfaces were designed and built for the requirements of recording music in combination with industry-standard computers. The requirements of real time distributed music performance are substantially different," said Peter Walker, co-founder and CTO of JamKazam. "As we built the first version of JamKazam to work with standard computers and audio interfaces, we quickly realized that these products have serious performance drawbacks when used for this new kind of real-time streaming application. It became apparent that a new kind of audio product was needed, and the idea for the JamBlaster was born."
JAMKAZAM LIVE MUSIC PLATFORM & COMMUNITY
It's important to understand that the JamBlaster is not just a piece of hardware. When musicians get a JamBlaster, they plug into the free JamKazam Internet service, and gain immediate access to all its features. Using a JamBlaster, musicians can join and play in sessions with other musicians, record session performances and share these recordings with friends, and live broadcast session performances to friends and fans. To understand the capabilities of the JamKazam platform, musicians may watch these JamKazam feature tutorial videos. Musicians who get a JamBlaster also plug into a community of thousands of musicians who are already on JamKazam and interested in playing with others online.
For more information on the company and its products, visit the JamKazam website at http://www.jamkazam.com. For members of the media interested in product photos, videos, audio recordings, screenshots, user testimonials, and other resources, please visit the JamKazam Media Center.
ABOUT JAMKAZAM
JamKazam develops an innovative live music platform and social network for musicians. The company's products enable musicians to play music together in real time from different locations over the Internet as if they are sitting in the same room. JamKazam is a private company headquartered in Austin, Texas.