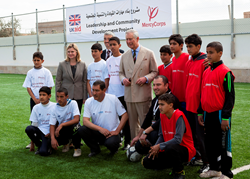 "The Prince's presence highlights the continuing need for strengthening of relations between Syrians, Jordanians and the local government and shows how critical Mercy Corps' conflict management work is to the ongoing stability of Jordan."
Amman, Jordan (PRWEB) February 08, 2015
As part of his six-day tour of the Middle East, The Prince of Wales today visited a flagship conflict management project in Jordan's Za'atari Village, run by global humanitarian organization Mercy Corps.
During his visit, His Royal Highness met with Mercy Corps staff, community leaders, teachers and students, and visited a newly constructed sports field, where Syrian and Jordanian boys played together.
"We are honored to welcome His Royal Highness to Za'atari Village," says Rob Maroni, Jordan country director at Mercy Corps, who accompanied The Prince of Wales on his tour of the project. "The Prince's presence highlights the continuing need for strengthening of relations between Syrians, Jordanians and the local government and shows how critical Mercy Corps' conflict management work is to the ongoing stability of Jordan."
Za'atari Village has seen its population double from around 10,000 before the Syrian crisis. Competition for jobs and demand for municipal services – such as water, education and healthcare – has increased, leading to tensions between Jordanian host communities and Syrian refugees.
Prince Charles listened as Syrian and Jordanian community leaders described how they work together to solve their disputes and find common ground, thanks to Mercy Corps' training. He also visited a girls' school that had become a source of tension within the community, as the influx of Syrian refugees had led to severe overcrowding in the classrooms. With Mercy Corps' training in conflict management and project management skills, community leaders developed a proposal to build an extension to the school that would accommodate the additional pupils. Mercy Corps funded the construction of the school, with agreement from the Ministry of Education, which undertook to provide the teachers.
Mercy Corps is also meeting the basic needs of Syrian refugees and Jordanian host communities by providing shelter and water, non-food items (such as blankets, mattresses and hygiene kits) as well as psychosocial assistance for children. Mercy Corps programs in Jordan currently benefit more than 1.1 million people.
Within the wider region, the organization is helping 2.5 million people affected by the Syrian crisis, including over 1.7 million inside Syria.
His Royal Highness is in the Hashemite Kingdom of Jordan at the request of the British Government and will also be visiting the State of Kuwait, the Kingdom of Saudi Arabia, the State of Qatar and the United Arab Emirates. The Prince has previously visited Jordan in 1993, 2004 and 2013.
About Mercy Corps
Mercy Corps is a leading global humanitarian organization saving and improving lives in the world's toughest places. With a network of experienced professionals in more than 40 countries, we partner with local communities to put bold ideas into action to help people recover, overcome hardship and build better lives. http://www.mercycorps.org.uk