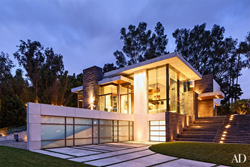 Los Angeles, CA (PRWEB) February 09, 2015
In the article by Rob Haskell, entitled Bold Play, clients Brenda Ellerin, an investment manager, and her husband, Stephen Dubin, a sports agent whose clients include New England Patriots quarterback Tom Brady, discuss working with architect Marc Whipple on the innovative design.
As well as celebrating the 10,000 square-foot home's striking modernist design, Haskell writes, "…the house is at the vanguard of sustainable design having been the first property designed under Beverly Hills' new green building ordinance. Energy is primarily provided by solar panels, and the lawns are irrigated via a gray water system which collects, filters, and then recycles water used in the home." As the clients are sports people, and have teenage sons, the house also provides a rec room with a bowling alley and Ping-Pong table. Find the AD feature here.
About W^R:
The boutique firm based in Los Angeles specializes in contemporary design for a west coast lifestyle - indoor-outdoor living, expansive views, water features, and the application of green standards and materials. Marc Whipple's recent designs, such as Laurel Way and Wallace Ridge as well as this Summit Drive home, exhibit the use of clean lines, sliding glass walls, natural materials, and ultimate livability that are Whipple Russell Architects' hallmarks and have placed him in the top ranking of modern architects in Southern California.
Contact:
emily aiken marketing | whipple russell architects | 323.717.5856
http://www.whipplerussell.com 323.962.5800
631 N Larchmont Blvd #4, Los Angeles CA 90004