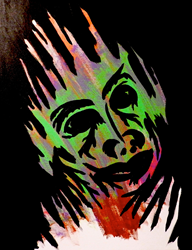 The Bone People are so named for their bony physical protrusions.
New York, NY (PRWEB) February 11, 2015
Digital art gallery Artzizzle today announced a new Featured Exhibition entitled, 'Bone People: Part II', a series of paintings on canvas by artist Nate Stack that completes the 'Bone People' art series. The first exhibition in 2013, entitled 'Bone People: Ghosts I Live With' showcased a series of paintings on paper mostly in one color, black. This new series of paintings is on canvas and in color. The paintings offer a new cast of Bone People characters, ghosts who come in dreams.
A preview video of the Featured Exhibition, 'Bone People: Pat II'.
About Artzizzle
Artzizzle is a digital art gallery that offers art for sale, collector advice and digital storage services to both novice and professional art collectors around the globe.
© 2015 EDB Media, Inc.